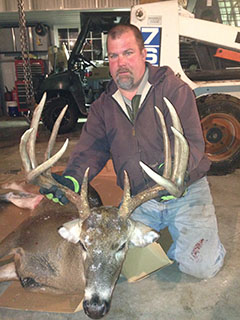 One man's experience of taking the buck of his lifetime was made all the sweeter when he won a TORQ Hi Performance Electric Vehicle as part of the
Buckeye Feeders Photo Contest
. To win the contest, Mike Waber of Layfayette, Ind., submitted a game-camera image he had of a large 10-point buck with his Buckeye Feeder before hunting season and one of him and the deer after he shot it with his crossbow during hunting season. "I spotted the buck three years ago in a field 1/8 of a mile from my house," Waber said. "I purchased a 35-gallon...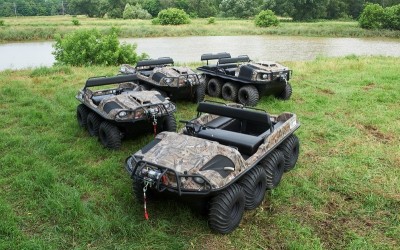 Argo, of New Hamburg, Ontario, Canada, the manufacturer of extreme terrain amphibious vehicles, will now be presenting its vehicle line up with the option of Mossy Oak Break-Up Infinity camouflage.
Used all over the world by commercial companies and sportsmen alike, Argo vehicles are built to go practically anywhere you need to go and get you back again.
"The addition of this camo pattern has allowed us to offer our customers a product that is universally recognized in the outdoor world," said John Window, Senior Project Manager for Argo.
The amphibious Argo UTV has
...
A number of Bad Boy Buggies hunting UTVs are now available in 
Realtree Xtra
. Realtree's newest pattern is now offered on the 
Instinct
, 
Recoil
, 
Recoil iS
, 
XD-Diesel
 vehicles, as well as the new 
Ambush
...
New Generation of 4x4 Hybrid Offers Upgraded Powertrains and Ability to Recharge Batteries in the Field
Hunters no longer have to choose between range, power and silence in a utility vehicle, with the introduction of the new 2014 Ambush iS 4x4 hybrid from Bad Boy Buggies. With the flexibility to switch between independent gas and electric powertrains, the utility of Regen Mode to recharge the vehicle's batteries on the fly, and the ability to engage both powertrains at once for 4WD power, the Ambush iS provides the range and off-road performance you need -- and silence when you...
Milsco Manufacturing has announced two new seats for the aftermarket seat customer. The seats are the popular Milsco XB180 and XB200 series in Mossy Oak Break-Up camouflage. These seats are officially licensed products of Mossy Oak.
The Milsco XB180 and XB200 are commonly found on off road utility vehicles and turf care equipment. These seats are offered with multiple mounting patterns in the base of the seat in order for it to fit a variety of OEM manufactures products.
Optional components that can be ordered to complete your new Milsco XB180/XB200 Mossy Oak camouflage seat are operators presence switches, seatbelt kits, and seat slides. Contact a Milsco Distributor today to place your order. A full distributor listing can be found at www.milsco.com.
Read and join the discussion on Milsco Manufacturing Introduces Mossy Oak Seats at OutdoorHub.com.
In response to popular demand, TK2 LLC has added Mossy Oak camo Tool Tamers to their line of portable storage systems. All of TK2′s Tool Tamers combine versatility, durability and portability so users, especially hunters and fishermen, can organize objects of all shapes and sizes.
Tool Tamers can be easily installed on any vertical surface such as doors or walls in hunting camps, sheds, garages, deer stands and duck blinds. Users can take advantage of the Tool Tamer's slim profile and eliminate bulky shelving that eats up valuable floor space. It is also perfect to hang on the roll cage of a UTV.
Don't be fooled by the name, The Tool Tamer is not just for storing tools. Designed specifically with the outdoor enthusiast in mind, the Mossy Oak Tool Tamer is ideal for storing hunting equipment, fishing tackle, camping supplies and more.
With handles specifically designed for comfort, Tool Tamers can be used to transport stored items all at once to another location. Built to withstand the abuse of everyday use, the Mossy Oak Tool Tamer is constructed of 900 Denier Cordura, which has excellent tear strength and is extremely abrasion resistant. Each Tool Tamer includes hooks so that the grommets along the top edge can be easily hung on the hardware.
The Tool Tamer is available in four sizes: Small (20″W x 21″H), Medium (38″W x 25″H), Large (50″w x 36″H) and Long (20″W x 41″H). It is also available as the "Contractor Pack," which includes one of each size for a full storage solution.
"As a hunter and fisherman myself, I am excited to partner with Mossy Oak and introduce our latest Tool Tamer addition. Because of their high-quality patterns, I have been a long time Mossy Oak customer and am proud to add their popular Break-Up Infinity pattern to our line," said Troy Sonnier, owner of TK2.
Read and join the discussion on TK2 LLC Introduces the Mossy Oak Tool Tamer Just in Time for Hunting Season at OutdoorHub.com.
Utility ATVs are great fun but they are also helpful around the farm and while hunting. ATV hunting has gained popularity not because of the ATV itself but the accessories that make getting to and from the hunting area much easier. The following are the top seven ATV accessories for ATV hunting.
ATV Racks and Baskets – Having a gun rack or bow rack on your ATV makes for safe and easy transport of your firearms. Adding baskets to your ATV makes it easier to haul game and supplies. There are also aftermarket racks and baskets for UTVs.
ATV Winch – Every utility ATV should have a winch. They are not used that often but when they are they are invaluable. An ATV winch can help free a stuck ATV or help pull your game out of a ravine or ditch.
Power-Loader – Load big game without physically picking up one pound! With the help of your ATV winch the Power-Loader can do the work of 2 – 3 men regardless of your age. Easily load and carry your treestand.
ATV Backpacker Trailer - When hunting big game such as elk or moose the ATV Backpacker trailer is a hunters best friend. With its unique drop-down design, loading your kill is a breeze. You can use this trailer year round for hauling your camping gear to those remote back country campsites.
ATV Luggage and Bags – A set of ATV luggage or bags provides a great place to carry extra ammo, your field dressing tools, a spotting scope and whatever else you may need on your ATV hunting adventure. Many of the ATV bags are available in camo.
Camo ATV Cover – Many areas don't allow the ATVs off the trail except maybe to retrieve your game. So the ATV is parked as close as possible and the hunter pursues the hunt on foot or from a treestand. So protect your ATV and help conceal it with a camouflage ATV cover.
Handheld GPS Units - Most successful hunter have already scouted the area before hunting looking for animal signs and tracks. By marking their coordinates in a handheld GPS unit ensures they find find their idea hunting area when they return for hunting season.
These top seven ATV accessories for ATV hunting will help your utility ATV work harder for you on your next hunt. Need hunting gear and more ATV accessories? Check out the broad selection at CampingATV.com.
Outdoor Hub, The Outdoor Information Engine - Top Seven ATV Accessories for ATV Hunting
With fall hunting season just a few short months away and UTVs becoming more popular for hunting, Moose Utility Division has decided to release a gun rack that offers UTV owners a safe and secure option for storing a gun while in transit. Moose Utility, a division of Moose Racing, has created an extremely versatile system. Moose's system has the ability to place the mounting hardware anywhere on your UTV's rack or rail, angled or straight. The two holders can slide to custom fit the width of your gun. The UTV Gun Rack can be installed or removed in seconds and is made from aircraft aluminum with a powder coated finish for long life. The UTV Gun Rack also comes with rubber snubbers for use in rough terrain.
UTV Gun Rack Product Information:
One mounting block allows you to put this rack anywhere on your UTV's rack or rail
Two gun holders can slide to the correct width for a custom fit
Works on either straight or angled UTV bars
Compression rubber honeycomb keeps your gear held tight
Comes with rubber snubbers for use in rough terrain
Price: $69.95
For more information visit www.mooseracing.com
Outdoor Hub, The Outdoor Information Engine - Moose Racing's Utility Division Releases UTV/Side x Side Gun Rack
Stealth Manufacturing, makers of the UTV industry's leading electric and hybrid electric utility vehicles, announces an exciting partnership with Gregg Ritz's Hunt Masters. Hunt Masters is one of the most popular big game hunting shows on The Outdoor Channel. Not only is Stealth an official sponsor of the fan-favorite show, now Stealth UTVs are the official utility vehicle of Hunt Masters Lodge, one of the Midwest's premier trophy whitetail destinations.
For the 2012 season, Gregg Ritz and the crew at Hunt Masters Lodge will use Stealth UTVs exclusively, and will promote the unbeatable performance, craftsmanship and innovation that has made Stealth the choice of discerning hunters and outdoorsmen and women across the country. Specifically, the highly acclaimed Nighthawk Hybrid will be the official UTV of Hunt Masters Lodge.
"The new Stealth Nighthawk was delivered to Hunt Masters Lodge just in time for turkey season, and it was immediately obvious that this awesome off road vehicle redefines the marketplace" said Gregg Ritz, host of Hunt Masters television. "The 72 and 64 volt hybrid design will never leave a hunter stranded, and it's onboard, gas powered generator rechargers the batteries on the fly! The Nighthawk Hybrid is yet another example of Stealth's commitment to innovation and quality. It's truly an awesome vehicle that will undoubtedly change a lot of people's opinions on the power and range of electric UTVs."
For more information on Stealth Manufacturing and the dynamic Nighthawk Hybrid, visit http://www.stealth4x4.com . To learn more about Gregg Ritz's Hunt Masters, log on to http://www.wildcomm.com/hunt-masters.aspx . To learn about the world-class whitetail and turkey hunting at Hunt Masters Lodge, visit http://www.huntmasterslodge.com
Outdoor Hub, The Outdoor Information Engine - Stealth Electric Vehicles to Sponsor Gregg Ritz's "Hunt Masters"