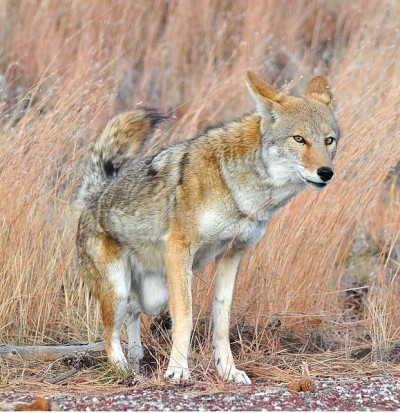 Coyote hunting is popular in many places, especially in rural areas where the predators pose a threat to livestock and pets. Utah's Predator Control Program offers hunters a $50 bounty for each properly documented coyote kill, and some groups have even organized coyote hunting "contests" that award prizes to the most successful hunters. California, however, has just become the first state to ban these competitions altogether. The California Fish and Game Commission
initially
...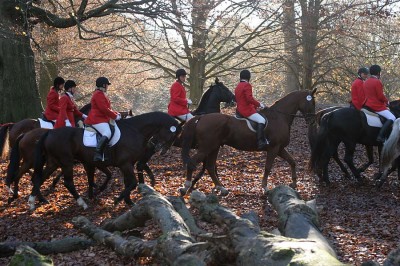 The sight of a mounted fox hunter in traditional attire---including red blazers and navy coats---is rare these days, and it seems that their quarry is rarer still. The coyote population on the East Coast is growing and in some areas pushing into fox territory. For the fox hunters in these regions, fewer foxes means that more and more clubs are finding coyotes a challenging, if unusual, substitute. "What the coyote has done is made [hunting] more difficult because the fox didn't run into other areas." Dennis Foster, executive director of the Virginia-based Masters of Foxhounds...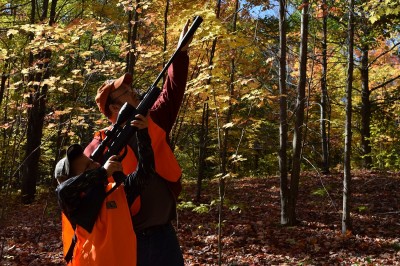 Many hunters remember their first deer or turkey fondly, but few recall their first squirrel. For many sportsmen and women, the very first game animal they chased in the autumn woods was a squirrel (now that you're thinking about it, I'm betting you can remember those tall hardwoods, with leaves full of bursting colors, and the bark of a distant squirrel). Michigan has ample squirrel hunting opportunities for those of us looking to make new memories this fall. Finding squirrels Let's face it, it's not too hard to find decent squirrel hunting habitat in Michigan. With hundreds of...
Squirrel is one my favorite small game animals. They come in a variety of species and are wildly abundant throughout the world. With many of our states' squirrel seasons finally open, it only seems to bring this dish to the table! Braised in rich, flavorful beer and infused with the earthiness of mushrooms, you can't help but go "nuts" after the first bite! Ingredients 4 ounces thickly sliced bacon, cut into 1/2-inch pieces 2 squirrels, 2 pounds each, cut into 6 pieces (don't dare discard the heads---put them in the pot as well) 1 large onion, coarsely chopped 4 ounces...
Most of us who hunt come from families of hunters. The love for the sport gets passed down from one generation to the next, with fathers and mothers looking on with pride as sons and daughters take to the field. With the rich tradition of hunting ingrained in the DNA of the state of Michigan, it does the heart good to see how the state has embraced our youthful hunters. I can remember the first time I went deer hunting. I was very young, not able at the time to carry a rifle of my own. My father has passed away several years before, so Ted, a family friend, asked my mother whether I could...
Officials from the South Carolina Department of Natural Resources (DNR) say that the coyote population has leveled out over the past few years, but at a much higher number than before. Although there is no accurate estimate of how many coyotes live in South Carolina,
The State
reports that hunters harvest about 30,000 of the animals annually, compared to less than 20,000 roughly a decade ago. "People just want DNR to make the coyotes go away," said Emily Cope, DNR deputy director...
Rabbit hunting is pretty emotional for me. Like many, I cut my "outdoors teeth" on small game hunting. Some of my earliest memories are of trudging through chin-high brush carrying a pocket knife decorated with an American flag, while my dad walked ahead of me toting a gun. Now a grown man, I still love hitting the fence rows and brush piles in search of those "wacky wabbits." The difference between then and now is that
I
get to carry the gun! Serves 4 to 6 Prep time: 2 hours and 30 minutes Cook time: roughly 2 hours Join me as we once again go "forest to fork" with...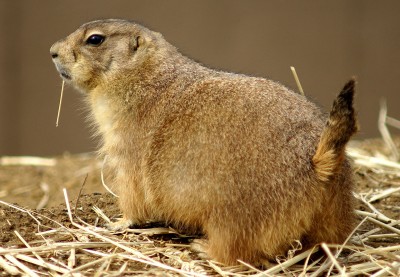 Boulder County health officials have announced that fleas from a dead prairie dog tested positive for bubonic plague earlier this month. The animal was found in the city of Boulder after residents noticed its carcass on their property. According to a
press release
, health officials have already set warning signs in the area where the animal was found, as well as nearby parks and open spaces. Residents are warned to avoid wildlife such as squirrels, prairie dogs, and other small rodents that...
Communicating with game is one of the absolute joys of hunting. For squirrel hunters, calling can fire up a forest and increase fun and success, just as it can for turkey, deer, and elk hunters. Calling adds versatility to your hunting arsenal and allows for more efficient and effective hunting.
...
We awoke at dawn. Most of us were slightly nervous, but energized by the certainty of impending combat. I doubt the enemy ever sleeps. They're too busy digging tunnel networks. We'd been the ones to choose the field of battle---the
Silver Spur Ranch in Encampment, Wyoming
. Encampment is an eerily appropriate name given the enemy's permanent dug-in positions. Our foe has a great propaganda machine, although I have absolutely no idea how they can afford such a thing. As a result, most people know them as those cute, adorable, and cuddly...