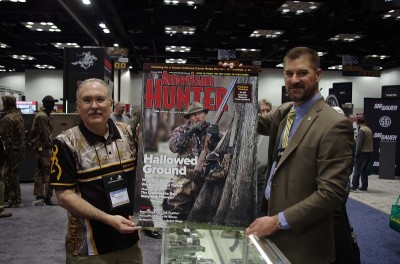 At its recent consumer show in Indianapolis, the NRA announced the recipients of the 2014 Golden Bullseye Awards. Among them was the Browning Citori 725 Feather which received the prestigious "Shotgun of the Year" honors from 
American Hunter
. The Golden Bullseye Award recognizes new and innovative products within the shooting sports arena. "It is an honor to be considered by the NRA for the Golden Bullseye award," said Ryan Godderidge, Vice President of Sales and Marketing. "The Browning 725 Feather has been well received by those who appreciate a lighter weight...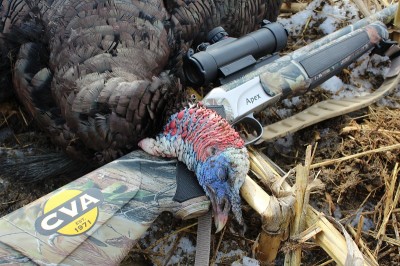 Last month, I decided to take my
CVA Apex
set up with the turkey barrel out for a little patterning test. The gun is set up with the stock CVA turkey choke and a 
KONUS 3-9x40 Ballistic Reticle scope
. The gun was dirty, so I deep-cleaned it. I used a Ballistol-soaked bronze brush on a cleaning rod and scrubbed the barrel for five minutes. I then let it sit for 15 minutes and scrubbed it with the CVA Barrel Blaster bore cleaner for three to four minutes. I finished by pushing...

Just in time for the 2014 turkey hunting season, TriStar Arms is announcing their new Raptor ATAC Turkey shotgun in 12 gauge. The Raptor line has been a popular and dependable line for TriStar, and now turkey hunters will be able to use many of the same features in the field this spring. The Raptor ATAC Turkey shotgun patterned in Mossy Oak Break Up camouflage (on the stock and forearm only), features a picatinny rail and ghost ring mounted sight, a fixed pistol grip and a fiber optic bridge front sight. The gas operated semi-automatic shotgun will come in a 24-inch barrel with a  3"...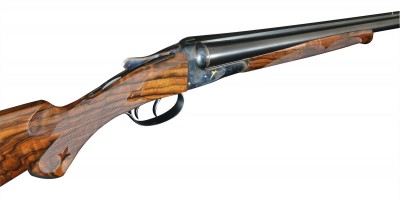 I consider myself fortunate to work in the outdoor industry. Learning new things is exciting, and is an ongoing process. This week's lesson? Gun restoration. Pheasant Fest is coming to Milwaukee, Wisconsin February 14-17. Gun collectors and hunters have the opportunity to bid on a one-of-a-kind Pheasants Forever, AH Fox Sterlingworth 20 gauge side-by-side shotgun restored by Turnbull. The funds will help support the Pheasants Forever habitat mission. I rarely use the word glorious, but other words seemed to fall short after seeing the Turnbull-restored Fox Sterlingworth. Many have...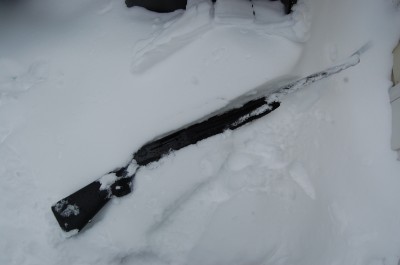 Man, it's cold. Seems to be a common topic of discussion this year, doesn't it? If you're like me, hearing about the polar vortex is getting old, and if one more person says anything about global warming, you just might slap them silly. The good news is that there is still hunting to be done and it doesn't matter how cold it is, you're going. Hopefully your gun still works. Keeping your gun, be it a rifle, pistol, or a shotgun, working properly when the mercury drops below the freezing mark isn't all that difficult. It just takes an extra step here and there to make sure...

Stoeger Industries introduces the new Stoeger M3020, the latest addition to a line of quality, affordable shotguns for hunters and shooters. The M3020 is a 3-inch, 20-gauge, semi-automatic shotgun that handles loads from 2¾-inch up to the potent 3-inch Magnum without adjustment. At the heart of the Stoeger M3020 is the proven Inertia Driven operating system; simple and efficient with only three moving parts in the bolt for lightning-fast, reliable operation. Unlike older gas-system guns, the M3020's Inertia Driven action is contained primarily within the receiver, giving the Model...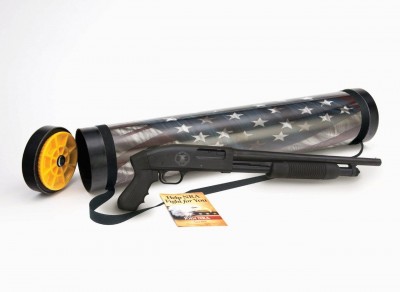 A Portion of the Sales Proceeds Supports NRA Programs
With preparedness and mobility in mind, Mossberg introduced the first in a line of versatile pump-action shotguns with protective storage cases, the 500 JIC (Just In Case) Series in 2008. Based on the 500 Cruiser 12-gauge platform, the JIC is a compact, self-contained and transportable 500 shotgun that comes conveniently packaged in a water-resistant tube, ideal for camping, boating and general readiness. Now Mossberg is pleased to offer this firearm in a special commemorative edition, honoring our 2nd Amendment and in support...

20-Gauge Pump-Actions that Accept TLS Accessories for Added Versatility
When introduced in 2012, the innovative, patented and patent-pending system of Mossberg FLEX modular 500/590 shotguns and interchangeable TLS (Tool-less Locking System) accessories provided unprecedented versatility and the ease of converting your 12-gauge 500/590 shotgun in seconds without the need for tools. Now Mossberg has expanded the line to include 20-gauge with the introduction of four new 500 FLEX 20 gauge pump-action shotguns; available in hunting and tactical base models. At the core of the 500...

Industry-leading firearms manufacturer, O.F. Mossberg and Sons, Inc., announced a long-term agreement with the Robertson family and phenomenally-popular Duck Commander franchise in June 2013. Now Mossberg is pleased to announce the first offerings in their "Duck Commander" series of firearms which include 11 pump-action and autoloading shotguns, two rimfire rifles and new for 2014, a semi-auto rimfire pistol. Setting these firearms apart are features personally-selected by the Robertsons and not found on other Mossberg firearms. The initial offerings all proudly display the "Duck...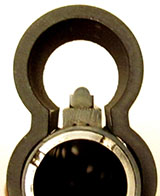 Drop your tom with ease this spring with the innovative new Snap Shot Sight. You won't find anything else like it anywhere. Whether you run and gun or sit in a blind, the Snap Shot increases your chances of bagging your bird. The Snap Shot easily snaps on almost any shotgun barrel, whether it's a vent rib or smooth bore. The Snap Shot's patented design enhances any existing sight system or works great alone. This unique sight, available in black or camo, provides instant target acquisition. If it's in the sight, it's history. Similar to a scope, the Snap Shot forces you to keep your...