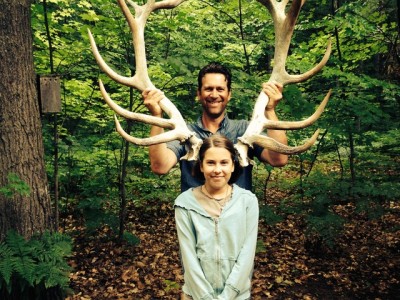 Standing ramrod straight, 10-year-old Sonja Moehle reaches perhaps a little over five feet. For comparison, the massive elk antlers she found in a Michigan lake earlier this lake both reach her chin. Sonja, who prefers to be called "Sunny," discovered the rack, and plenty of other bones, while canoeing with her dad around a Northern Michigan lake back in April. Sonya initially thought the antlers were just oddly-shaped sticks or even dinosaur bones, but her dad, David Moehle, knew better. "He brought his fishing pole," Sonja told
Read more »
Visitors to Wyoming's 25,000-acre National Elk Refuge may find a strange sight during certain times of the year: hundreds of Boy Scouts combing the woods in search of elk antlers. Visitors are normally barred from shed hunting inside the refuge, but the Boy Scouts have a longstanding agreement with the refuge's managers. The deal allows the Jackson District Boy Scouts free roam across the refuge to pick up any sheds they find. The Scouts do all the hard work (more than 2,000 hours of gathering, preparing, and auctioning off the antlers) while the refuge keeps about 75 percent of the auction...
For shed hunters, the only thing better than finding a nice set of antlers is to witness the bull or buck shaking them off firsthand. Kolten Banks of Trigger Finger Replicas, an antler repair and reproduction service in Utah, managed to capture the following video of a large bull elk dropping the last of its headgear. http://youtu.be/-ef3Nfp4Kgs...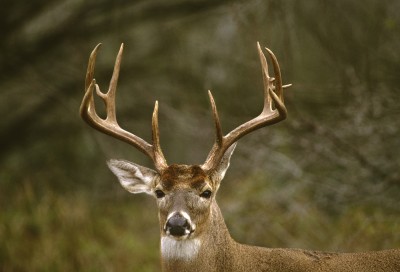 Nonhunters often have a difficult time understanding a hunter's fascination with antlers. What it is about a piece of bone that creates such a passion in outdoorsmen and women? I believe that the fascinating phenomenon that causes antlers to grow, drop, and regrow each year is a process that draws us in because it is unique and amazing. Antler growth is the fastest form of mammal tissue growth known to man; antlers can grow up to an inch a day. No other animal outside the members of the deer family can boast of this remarkable annual event. Antlers are not horns. Horns are not shed and...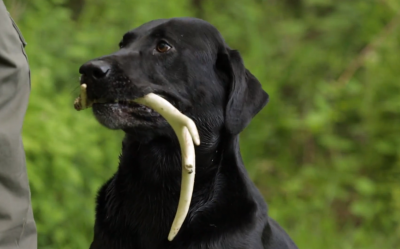 For two days next month, the Historic Grand Event Centre in Northfield, Minnesota will be filled with dogs, their owners, and an abundance of shed antlers. April 12 to April 13 are the dates set by the North American Shed Hunting Dog Association (NASHDA) for its World Shed Dog Championship. This year marks the fourth championship hosted by NASHDA, which will pit several dozen competing dogs against the clock in the search for antlers. Although Labradors dominated last year's competition, this year's championship is expected to see a wide variety of breeds. "She loves to go," trainer Parker...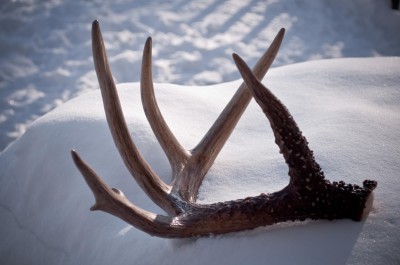 On Saturday the Nevada Board of Wildlife Commissioners voted unanimously in favor of regulating shed hunting, or the collection of shed deer and elk antlers by hobbyists. Although the board voted against requiring Nevada shed hunters to purchase a hunting license, the commissioners did agree on prohibiting shed hunters from collecting antlers during the winter-spring period. Shed hunting is popular with many hunters and outdoor enthusiasts. Some see it as an excuse to venture into the woods during the off-season, while others simply want to add to their collection of antlers. Many shed...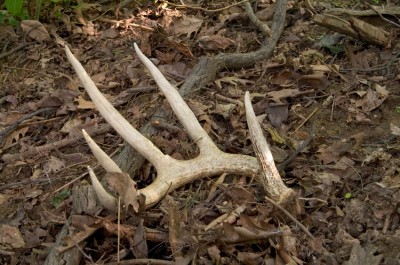 These eight tips will help you find more shed antlers this year. And this video on building a shed antler trap is guaranteed to be a real eye-opener! I found my first whitetail shed antler purely by accident. I was setting fox traps along a brushy fencerow and there was a shed antler which had been lying there for the better part of a year. I picked it up and brought it home. Despite the fact that it was somewhat chewed up, it was clear this antler came from a big 10-point buck. I became fascinated by the amazing phenomenon of antlers. Antlers are the fastest form of animal...
Hunting for sheds can be great fun and remains a popular way to introduce young kids to the outdoors. It can also be a way to give back to the wild. Wyoming's 25,000-acre National Elk Refuge is a treasure trove of elk sheds, but it...

Read More »
Last month, Michigan resident Brian Schmitt was on the hunt for fallen antlers when he spied something unusual…and morbid. Laying on the ground were not the tell-tale points of a discarded rack, but instead the bone white of a human skull. According to WDIV, Schmitt snapped a picture of the skull and immediately brought the remains to the Brownstown Township Police Department.
"It's amazing what you find in the woods if you pay attention," Schmitt told WDIV. "It was really unforeseen that I would look down and see a skull, a human skull."
As it turns out, the skull is a pivotal clue in the case of missing 49-year-old Lizzie Mae Collier-Sweet. The Brownstown woman had been missing for six years and extensive searches by the authorities have turned up nothing. Collier-Sweet disappeared after a fire consumed her home in 2007 and police placed their suspicions on her husband, Roger Sweet. Just a few months later, Roger Sweet pled no contest to the murder charge, and was convicted for the slaying of another woman: his first wife Marlene Sweet. When police questioned Sweet as to the whereabouts of his wife's body, he told them she was probably in the woods.
Now six years later, Schmitt guided authorities back to the site of the find where the rest of Lizzie Sweet's remains were recovered. Some of the victim's belongings were also found and the family has been notified.
"If, in fact, there is closure to this case, I really feel confident that the family is going to get some healing and be able to rest a little easier," Schmitt said.
Louise Collier, sister of the deceased, says that while the discovery brings relief, it also brings renewed grief.
Read and join the discussion on Shed Hunter Finds Vital Clue in Detroit Cold Case at OutdoorHub.com.
The gently flowing creek was as cold as it was clear. I'll never forget setting my eyes on that beautiful 3-point whitetail shed resting on the smooth gravel bar. I was touching something no human hand has ever touched before. I was six years old and my buddy and I were out searching for shed antlers. Looking back, I now realize we were shed hunting pioneers! I'm reminded of that day every time I pass my china cabinet in our home where the shed proudly rests.
Some people collect antiques, others garden–I shed hunt. Shed hunting is not just my hobby, it is my passion. I like the way I feel connected to the animal when I find its shed. I enjoy knowing that when I find a big shed I'm creating another chapter in a story that is still open; the story of that buck's life.
Filming for our show, Driven TV, takes my wife Nicole and I around the world hunting and making new friends. For years, even before I was working in outdoor television, I would travel all over shed hunting. My old friends Tom Indrebo, Jim Hansen, Dennis Williams, and I would often go to Canada looking for big, chocolate-colored antlers and literally find between 200-300 sheds in one single week! One of the most unique sheds I have ever found was in Canada. It was both sides, fused in the middle with no hair in between, with a diameter of over 10 inches! I have also had the opportunity to travel the world in search of sheds from moose, caribou, elk, red stag, fallow deer, mule deer, and whitetails of course.
Location, location, location
I'm often asked about shed hunting and how others can successfully find sheds as well. The first and most important thing to keep in mind when shed hunting is location. The term "location" has a double meaning in this situation. First, I need property to shed hunt. I'm blessed with access to private and public property near my home. Many people don't bother shed hunting on public land because they feel that they'll all already be picked over. That is true in a sense, but doesn't have to be the case. When shed hunting on public land, be sure to check back often. It's the early bird who gets the worm in public land shed hunting. Also, look in secluded, out-of-reach places that a buck can hide and other hunters wouldn't bother looking. Where legal and with permission, I also like to shed hunt parks, public areas, nature reserves, and so on–places that hold a lot of deer.
The other way I think about location is by asking myself: where will the bucks be during the "shedding period?" The shedding period is usually a two-month long window between mid-January through mid-March. There are other stress factors that could cause a buck to shed early such as a hunting season wound, a dry summer, extremely cold winter, and lack of food. For the most part, if a herd is healthy, the bucks should be dropping their antlers during this late winter shedding period. Many people make the mistake of looking for sheds in their favorite fall hunting sports. While they may have some luck, it's best to start looking for sheds at preferred food sources during the shedding season. Find the food and the sheds won't be too far away.
Once I've located the preferred food source, I start to do a bit of reconnaissance. I will glass fields, run trail cameras, and keep a close eye on my calendar. Without any external stress factors, the bucks will usually shed within a few days of when they did last year. My ideal shed hunting day would be an overcast, early spring day just after a rain has washed away the last traces of snow. With no snow and a high amount of moisture in the air, the sun-bleached antlers have their own unique "sheen" to them, allowing them to be easily found. When my trail cameras, physical scouting, weatherman, or calendar say it's time to look, I pack up my gear and start shed hunting.
Before heading out on a shed hunt I make sure I have two things. I never leave the truck without my Nikon Monarch 7 10×42 binoculars. By carrying quality optics, I save a lot of time and energy. I use my high power Nikon's to survey alfalfa fields, eliminating the need to pace back and forth in a field where there are no sheds. Sure, I'll miss a few little ones here and there, but the majority of the time, if there's a big shed in a hayfield, I'll be able to spot it. I also use my Nikons in the timber. By standing in an open area, and slowly glassing the entire forest floor, I usually can pick out sheds among the leaves and twigs. I also never shed hunt without my ScentBlocker Boa waterproof knee boots. It goes without saying that cold, wet feet make for a long miserable day. It is important to keep my feet warm and dry. At one point I used a pedometer to log my shed hunting miles. On average I was walking between 15-20 miles per day!
Knee boots on and binoculars in hand, I start looking for sheds at food sources. Deer feed so aggressively in the winter that the chances of them jarring an antler loose are highest at the dinner table. Deer will spar, compete, thrash at the snow, and dig for a chance to eat a high-calorie meal. Once I have checked the feeding areas, I'll backtrack on the well-used trails to bedding areas. During the shedding period, deer are in survival mode and do not expel any more precious energy than necessary. If the deer aren't lying down, they are walking to the food. The sheds should be nearby!
Other places to look for sheds are near crossings where a big buck might have to jump or scramble a bit. I like to focus on fence jumps, creek crossings, steep ravines, and ridges. Sometimes the sudden jump or scramble up a hill will cause an antler to pop off. When looking in big timber, I focus on south facing ridges. Deer love to sunbathe and will warm up in the winter by soaking up the south sun when given a chance. Many big timbers with no crop fields or creek crossings will collect sheds on their southern ridge slopes.
When I do find a big shed, I know the other matching side won't be too far off. I'll do a series of semi circles around a big shed until I find its partner. Mature bucks don't appreciate such a discrepancy in the weight on their head when one shed drops so they will soon get annoyed and do what they can to get the other one to fall. I've completed matching sets by looking in bushes, near logs, on fences, and anywhere else a big buck can relieve himself of the annoyance of only one antler. The younger bucks with lighter antlers don't seem to be bothered as much by this and they will sometimes take weeks to drop both sides of their headgear.
The benefits of shed hunting
There's a lot to benefit from shed hunting. First and foremost, it is a wonderful way to get exercise and spend time with loved ones. Nicole, the kids, and I love to be together in Mother Nature's spring woods. After months of being cooped up inside hiding from the bitter cold, our bodies and minds are ready to reconnect with nature and get some fresh air. Second, shed hunting is a great way to do a bit of post-season scouting. Any pressure that we give the deer will be long forgotten come fall hunting season. This is a perfect time to look for old rubs and scrapes, scout a few new potential stand locations, and start to create a game plan for fall. Finding a mature buck's shed gets me fired up for the next season. Often I've killed "residential" bucks within a few hundred yards of where I have found their sheds the spring before. I really like to analyze each shed that I find. In fact, more often than not I can recall the exact location and conditions of each and every shed I have found. If you were to ask Nicole, I'm not so good at remembering household chores, but I remember each shed vividly.
It's pretty easy to analyze the age of bucks younger than 4-½ by gauging their pedicle size. Once they have hit maturity it gets a bit more difficult, but also comes with unique rewards. Mature bucks really have a lot of unique character traits such as kickers, stickers, drop tines, and crazy twists. I really appreciate how unique and individual each shed is. They truly are one of a kind.
Showing the beginner the ropes of shed hunting is a lot like taking a kid hunting or fishing for the first time. It is important to set them up to be successful and make sure the experience is a positive one. I like to watch the weather and make sure we are going to be out when it is pleasant. I don't take rookies to sparse places, but rather bring them into areas where I know there were plenty of deer during the shedding period. When I do find a shed, I leave it alone and call everyone over to get a good look at how it looks. I have a trained eye to look for antler and tips and bleached contrast, and want other shed hunters to train their eyes to be keen shed hunters as well. By showing someone what a naturally fallen shed looks like, I'm helping to show them visual cues to look for in the future.
Shed hunting with dogs is becoming very popular. A good retriever of other breed of dog can learn to hunt sheds and really help a hunter cover more ground, saving precious time and energy. There are several successful shed dog breeders across the nation. Nicole and I have really enjoyed watching our kids train their dog to shed hunt! The kids and dog have gotten so good that it's at the point where we arrive at a shed hunting location and won't see them at all until the evening, with tired kids, an exhausted dog, and a pile of fresh sheds!
Memories made
I'm often asked, "What is your biggest shed?" I don't necessarily have a "biggest" shed. In fact, many of my biggest sheds I have found end up being given away. It's proper etiquette to give the landowner all sheds collected on their properties, so many of my biggest now belong to others. Also, if I have a shed and know a hunter has killed that particular buck, I'll give them the shed to help tell that buck's story. I do have a lot of "shelvers," which means they are big enough to be displayed on a shelf at home. While I may not have a "biggest" shed, one of my favorites is a giant shed I found with my good friend Tom Indrebo. This mature buck had tines that flared back and looked like a "flyer" of sorts. We had seen this buck wintering on Tom's property and it was a race to see who could find it first. I won by driving by a field one day and seeing the shed laying in the grass from the road! Quickly I slammed the truck into gear and sprinted to my prize. That's still a really special shed to me.
The smallest shed I have found is a nub from a button buck. I was in an area that looked absolutely perfect, and was wondering why I hadn't found any sheds yet. I just happened to look straight down and noticed the tiny shed at my feet! That is a shed I'll always remember, too.
I don't just shed hunt to scout next year's buck, I shed hunt to be outside, to breathe fresh air, to spend time with loved ones, to see the sun again after a long cold winter. I shed hunt to feel connected to nature. Try to get out shed hunting this spring. There are too many benefits to not give it a shot. Also remember, shed hunting is just like any other type of hunting, and sometimes we return home empty handed. When we do get blanked, it's okay, Nicole and I remind the kids that the real trophy is the memories we created together, and the time we spent outdoors. When you are lucky enough to find a shed, appreciate it for what it is: a unique, one-of-a-kind trophy than no human has ever held before.
Read and join the discussion on The Basics and Benefits of Shed Hunting at OutdoorHub.com.