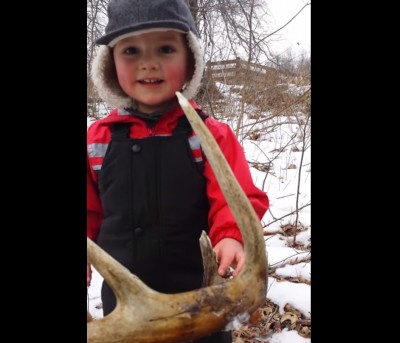 This young shed hunter had the good fortune to find the other half of his first complete rack. It just goes to show that kids are never too young to introduce to the great outdoors, and something like shed hunting may be the perfect activity to get them out there. And of course, nothing beats seeing that smile when they finally do spot their first antler. http://youtu.be/D-UhpDnP8ic...
The most famous hunting couple, Lee and Tiffany, stopped by to add some alfalfa to their feeder and it was all caught on camera by
The Crush Live Deer Cam
. While filling the feeder, their dog Tanker found a massive shed from a very well-known deer named Anvil. Watch the clip and see if you can guess the score of the monster buck this shed came from. ...
Hunting for shed antlers is great fun and an easy way to get kids into the great outdoors. But there's no way that shed hunters could collect every discarded antler in the woods, could they? So what happens to those racks left on the forest floor? Do they decay, melt away, or get carried off by an army of insects? As it turns out, loose antlers are often taken care of by squirrels. These big-toothed rodents scour the forest floor for bony treats, which they quickly nibble away. Antlers are actually a good source for mineral salts and help to keep teeth worn down, so they are highly prized...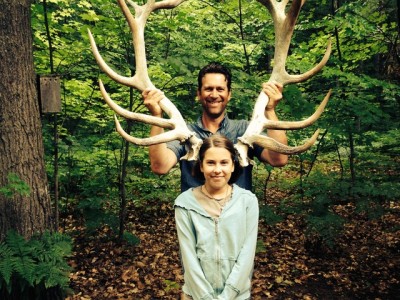 Standing ramrod straight, 10-year-old Sonja Moehle reaches perhaps a little over five feet. For comparison, the massive elk antlers she found in a Michigan lake earlier this lake both reach her chin. Sonja, who prefers to be called "Sunny," discovered the rack, and plenty of other bones, while canoeing with her dad around a Northern Michigan lake back in April. Sonya initially thought the antlers were just oddly-shaped sticks or even dinosaur bones, but her dad, David Moehle, knew better. "He brought his fishing pole," Sonja told
Read more »
Visitors to Wyoming's 25,000-acre National Elk Refuge may find a strange sight during certain times of the year: hundreds of Boy Scouts combing the woods in search of elk antlers. Visitors are normally barred from shed hunting inside the refuge, but the Boy Scouts have a longstanding agreement with the refuge's managers. The deal allows the Jackson District Boy Scouts free roam across the refuge to pick up any sheds they find. The Scouts do all the hard work (more than 2,000 hours of gathering, preparing, and auctioning off the antlers) while the refuge keeps about 75 percent of the auction...
For shed hunters, the only thing better than finding a nice set of antlers is to witness the bull or buck shaking them off firsthand. Kolten Banks of Trigger Finger Replicas, an antler repair and reproduction service in Utah, managed to capture the following video of a large bull elk dropping the last of its headgear. http://youtu.be/-ef3Nfp4Kgs...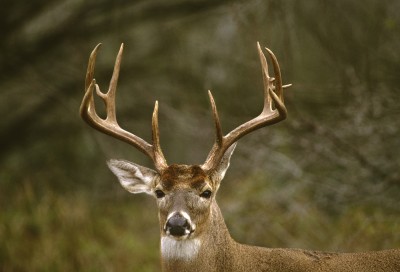 Nonhunters often have a difficult time understanding a hunter's fascination with antlers. What it is about a piece of bone that creates such a passion in outdoorsmen and women? I believe that the fascinating phenomenon that causes antlers to grow, drop, and regrow each year is a process that draws us in because it is unique and amazing. Antler growth is the fastest form of mammal tissue growth known to man; antlers can grow up to an inch a day. No other animal outside the members of the deer family can boast of this remarkable annual event. Antlers are not horns. Horns are not shed and...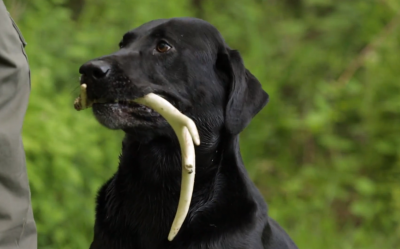 For two days next month, the Historic Grand Event Centre in Northfield, Minnesota will be filled with dogs, their owners, and an abundance of shed antlers. April 12 to April 13 are the dates set by the North American Shed Hunting Dog Association (NASHDA) for its World Shed Dog Championship. This year marks the fourth championship hosted by NASHDA, which will pit several dozen competing dogs against the clock in the search for antlers. Although Labradors dominated last year's competition, this year's championship is expected to see a wide variety of breeds. "She loves to go," trainer Parker...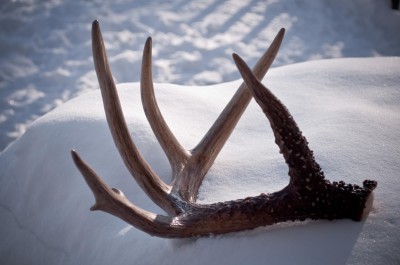 On Saturday the Nevada Board of Wildlife Commissioners voted unanimously in favor of regulating shed hunting, or the collection of shed deer and elk antlers by hobbyists. Although the board voted against requiring Nevada shed hunters to purchase a hunting license, the commissioners did agree on prohibiting shed hunters from collecting antlers during the winter-spring period. Shed hunting is popular with many hunters and outdoor enthusiasts. Some see it as an excuse to venture into the woods during the off-season, while others simply want to add to their collection of antlers. Many shed...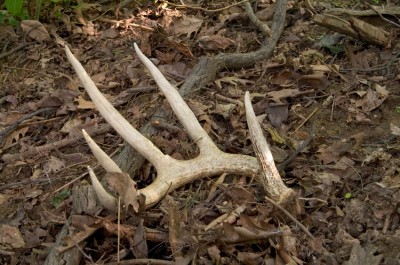 These eight tips will help you find more shed antlers this year. And this video on building a shed antler trap is guaranteed to be a real eye-opener! I found my first whitetail shed antler purely by accident. I was setting fox traps along a brushy fencerow and there was a shed antler which had been lying there for the better part of a year. I picked it up and brought it home. Despite the fact that it was somewhat chewed up, it was clear this antler came from a big 10-point buck. I became fascinated by the amazing phenomenon of antlers. Antlers are the fastest form of animal...