One popular subject of debate among hunters is which cartridge is best for a specific game species. Usually a hunter's choice is dependent upon personal preference and whether or not a round can humanely kill an animal. However, there are some cartridges so intimidatingly large that the guns they are used in are simply referred to as "stopping rifles." These firearms shoot projectiles designed to stop a wild animal in its charge with a single bullet. If there were such a thing as
huge
game calibers, the seven cartridges listed below would qualify. 1. .577 Snider This British black...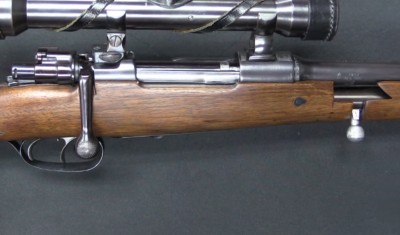 The first thing you may notice about this hunting rifle from German gun maker Christoph Funk is that the rifle has a second breech, a second trigger, a second bolt, and a second barrel. This rather unique gun's top barrel is chambered in 7x57mm Mauser and its bottom barrel is chambered in .22 LR. According to firearms historian Ian McCollum, who runs 
ForgottenWeapons.com
, this kind of flexibility allows the user to take both medium-sized to large game and small game without having to swap firearms. If you're worried about the weight of an...
We awoke at dawn. Most of us were slightly nervous, but energized by the certainty of impending combat. I doubt the enemy ever sleeps. They're too busy digging tunnel networks. We'd been the ones to choose the field of battle---the
Silver Spur Ranch in Encampment, Wyoming
. Encampment is an eerily appropriate name given the enemy's permanent dug-in positions. Our foe has a great propaganda machine, although I have absolutely no idea how they can afford such a thing. As a result, most people know them as those cute, adorable, and cuddly...

Sturm, Ruger & Company, Inc. (NYSE: RGR) announces an all-new Predator version of the Ruger American Rifle - the 100% American-made rifle that set a new standard of excellence among full-featured, bolt-action rifles.  The Ruger American Rifle Predator model includes all the features of the original Ruger American Rifle, plus a moss green stock, a heavier tapered, threaded barrel and a factory installed one-piece aluminum scope rail.  It is available in six calibers - .223 Rem (featuring a 1:8 Twist), .204 Ruger, .22-250 Rem., .243 Win., 6.5 Creedmoor and .308 Win. "The Ruger...

Midwest Gun Works Inc.
, (MGW), a one-stop shop for firearms parts, accessories and gunsmithing services, proudly announces that MGW will be distributing the new 100% USA Made ARES Defense Sport Configurable Rifle (SCR).  This latest innovation from an industry leader uses advanced patented firearms technologies; the SCR gives tactical, sport and competitive shooters a robust, multi-caliber platform that is designed for optimal configuration. The SCR accepts most Modern Sporting Rifle accessories and parts including magazines, barrels, bolts,...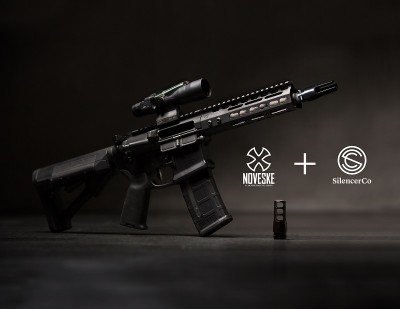 SilencerCo and Noveske Rifles announce a multi-faceted partnership to make the best rifles in the world even better. To start with, every Noveske rifle going forward will feature a SilencerCo muzzle device - Trifecta RS flash hider or muzzle brake - ready to mount a SilencerCo silencer. The first Noveske rifle (8.2" 300BLK Gen 3) featuring a SilencerCo muzzle device was auctioned this past weekend at the NRA/ILA live auction in conjunction with day and night optics and a hog hunt in TX. In addition, all lowers for SilencerCo's Saker 556 promotion, which ended January 30th, will be provided...

Sturm, Ruger & Company, Inc. (NYSE-RGR), in celebration of the 50th anniversary of the 10/22, is proud to announce the 10/22 50th Anniversary Design Contest Winning Rifle. The contest winning rifle, available only in 2014, takes the legendary action and renowned, reliable rotary magazine of the 10/22 and combines them with the best features of other popular Ruger rifles. The result is a fun, versatile .22 rifle that enthusiasts of all ages are sure to enjoy. The 10/22® 50th Anniversary Design Contest Winning Rifle is the result of Ruger's most extensive Voice of the Customer Program...

Remington Arms Company, LLC, ("Remington") is pleased to announce the Model 700 Ultimate Muzzleloader – the most technologically advanced in-line muzzleloader on market today. The Ultimate Muzzleloader sets a new performance threshold with the use of a closed breech system that provides a cleaner and hotter ignition.  The AMP (Accelerated Muzzleloader Performance) ignition system uses a uniquely-sized brass case with a Remington 9 ½ large magnum rifle primer that is push fed into the breech plug creating a gas seal in the flash hole of the primer (see cutaway below). The result...

NRA show attendees who visit the National High School Rodeo Association (NHSRA) booth (#6846) April 25-27 can register to win a custom Weatherby Mark V rifle in .300 Wby. Mag. Valued at $14,000, the rifle features the NHSRA logo and is topped with a Leupold riflescope donated by Leupold & Stevens, Inc. Each year, the NHSRA awards thousands of dollars in educational funding to members. Since 2001, the Weatherby-NHSRA Scholarship Fund rifle has raised more than $1.2 million via the annual raffle. This year's drawing for the winner will be held during the National High School Finals...

The surge in popularity of the AR-15 rifle has taken the country by storm. It seems like everyone's accessorizing their AR rifle in order to make it stand out from the crowd. And with Nikon's latest promotion, AR enthusiasts can take another step in ensuring that their AR Rules. Now through April 30, 2014 shooters can take advantage of up to $100 instant savings on select models of Nikon's AR dedicated riflescopes with Nikon's AR Rules Promotion. "Our dedicated AR riflescopes are caliber specific," said Nikon general manager Jon Allen. "As more and more people continue to...