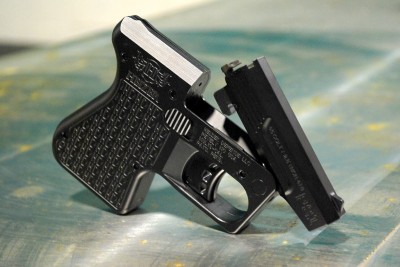 Heizer Defense, a leading designer of unique and high quality firearms has announced that AcuSport Corporation will be carrying the Heizer Defense products. Heizer Defense has begun production and is rolling out their new PS1 Pocket Shotgun Pistol. The PS1 shoots a 410/45 Colt round, but is the about the size of an IPhone. Gary Ramey, GM/COO of Heizer Defense noted "The PS1 is engineered and manufactured by the same skilled machinists that design and produce product for our Aerospace, USA Military and NASA customers. Heizer only uses high quality material like stainless steel to produce...
The National Rifle Association has recently sold its one millionth copy of the NRA Guide to the Basics of Pistol Shooting. Known as the Basic Pistol handbook, the guide is a comprehensive resource on responsible pistol use and is the foundation of NRA's popular Basic Pistol and FIRST Steps Pistol Orientation courses. First published in July 2009, the Basic Pistol handbook was written with the intent of becoming an at-home reference guide for gun owners. Topics included in the guide are basic firearm safety, storage options, range rules, target scoring and basic fundamentals such as...
DoubleTap Defense
, LLC, a firearms design and manufacturing company, announces the addition of new calibers for the patented DoubleTap Tactical Pocket Pistol to include the .410/.45 Colt and the .40 S&W. DoubleTap Defense will unveil the new calibers at the 2013 NASGW Expo & 40th Annual Meeting in Grapevine, Texas. The new .410/.45 Colt and .40 S&W calibers will beavailable in the DoubleTap pistol model and as a Barrel Conversion Kit. The new .410/.45 Colt caliber for a 2.5-inch cartridge has become a popular self-defense and...
Turnbull Manufacturing is proud to announce the newest member of the growing Turnbull family of new firearms based on classic models. The new 1911 Heritage Pistol replicates the look and feel of 1911 pistols built during WWI. "The 1911 pistol remains one of the most beloved and desired handguns after over 100 years of manufacturing and the 1918 design is the one that best captures John Browning's design," said CEO Doug Turnbull when asked about the frame design, "We took that timeless design and added our unique color case hardening and charcoal bluing." The Heritage has a 5...
Gamo Outdoor USA
 is releasing the new and powerful new Blowback series Steel BB pistol, the C-15 air pistol, both perfect for target practice and short-range varmint control. The C-15 is a compact design pistol able to shoot 15 steel BB's with one magazine, featuring a Weaver-style rail for mounting tactical accessories. C-15 Specs 450 FPS .177 Caliber Compact design, smooth steel barrel Steel BB pistol Semi-Automatic Blowback action 15 steel BB magazine capacity 1 Year Limited Warranty MSRP: $118.95 ...
SCI has officially released its latest record books. Oak Creek Whitetail Ranch has dominated the Midwestern typical and non-typical categories yet once again. Trophy whitetail bucks, taken exclusively at Oak Creek, have achieved the following rankings: # 1 and #2 Typical Overall #2  and #3...
Read More »
Two NRA-backed bills squeaked through the legislative deadline in Oklahoma's House of Representatives on Friday and are now on their way back to the Senate for approval.
Senate Bill 1760, created by Senator Anthony Sykes (R – 24) and Representative T.W. Shannon (R – 62), is actually an update to language previously used in a good-faith bill for gun-owners in the event of a declared state of emergency.  The Oklahoma Riot Control and Prevention Act had provisions to protect a person's right to self-defense and defense of others in these states of emergency, but they left out language that would specifically allow the acquisition of firearms as part of the self-defense process.  This is where SB 1760 steps in, as the engrossed summary of the bill states:
"SB 1760 amends the Oklahoma Riot Control and Prevention Act by providing that nothing in the act is to be construed to allow any official of a municipal or state entity to prohibit or suspend the sale, ownership, possession, transportation, carrying, transfer and storage of firearms, ammunition and ammunition accessories during a declared state of emergency."
Rep. Shannon stated, "In a situation where a riot is severe enough that the governor declares a state of emergency, citizens in the affected area will likely have much greater need for self-defense than at any other time.  It makes no sense to force those law-abiding citizens caught in a bad situation to disarm when they may be threatened with violence by lawless individuals."  SB 1760 was approved unanimously, 84 to 0.  Without doubt, much news and opinion of this Second Amendment protection has been very positive.
Senate Bill 1743 relates to an issue that brings up a bit more ire from state to state: suppressors.  This bill, from Senator Steve Russell (R – 45) and Representative Leslie Osborn (R – 47) is also called the "Landowner's Hunting Freedom Act" would allow landowners and guests on their property to use legal suppressors on their firearms for hunting (it would not allow suppressed hunting on public land).  It doesn't take much imagination to see where "enabling" the use of NFA items would raise some hackles, but even this thankfully flew through the House in a 77 to 5 vote.
The argument for an increased usage of suppressors, regardless of their place of use, is that they will cut down tremendously on noise complaints.  As has been noted countless times before, noise complaints are becoming the primary excuse to shut down shooting ranges and kick legal shooters off hunting land across the U.S.  Suppressors, despite their silly, unearned "bad" reputation from pop culture and the media, are an extraordinarily useful tool in keeping relative peace between shooters, their neighbors, and the environment.  This is partly why in Europe, a place frequently considered in the U.S. to be "anti-gun", suppressors are not only readily obtainable; they're encouraged.
Of course, not everyone has been supportive.  Tony Clark, president of the Oklahoma State Game Warden Association, was quoted in The Oklahoman as saying, "We are pro-gun and pro-hunting, but we are definitely opposed to that bill.  With us, it's kind of a safety issue. How would you like to be in law enforcement and not know where gunshots are coming from?"  User "Paul Kersey" parroted this with his comment on the article: "The negative of allowing [suppressors] on private land is poachers WILL take advantage of this and it will make it MUCH harder for the game wardens to pinpoint them. Thank God it won't be allowed on public land… I think they should be allowed for target shooting only and the Class 3-type background check is definitely a must."
In response to these kinds of critiques, Sen. Russell said, "They have no factual basis other than they just don't feel good about it." Darren La Sorte of the NRA-ILA put his counterpoint to the possible poaching "problem" this way:
"Some will argue that the legalization of suppressor use while hunting will increase the incidents of poaching, but the experience of the many states that allow the practice clearly proves them wrong. Would these opponents mandate the use of the .338 Lapua with a muzzle brake in order for shots to be heard from the greatest possible distance? Is the diminutive .243 Win. Simply too quiet? As one suppressor advocate in Montana asked earlier this year during the legislative session, should all bow hunters be required to sound an air horn every time they release an arrow in order to alert any nearby wardens?  The reality is, the less muzzle noise heard by the non-hunting public, the better off we all are."
The NRA-ILA asks interested parties to contact their Senator and urge them to support SB 1743 and SB 1760.  Contact information for Oklahoma elected officials can be found here.
Outdoor Hub, The Outdoor Information Engine - Oklahoma House Passes Bills Allowing Suppressor Use for Hunting and Gun Purchases in States of Emergency