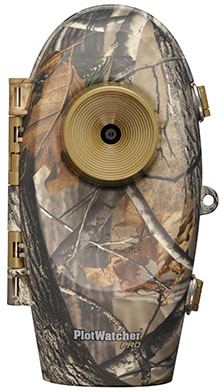 Being in the right place at the right time is crucial to any hunt. But, timing may not be near as important as location, and sometimes picking the right location to set up for a hunt can be a guessing game. Day 6 Outdoors doesn't believe in guessing where to hunt. That's why it created the PlotWatcher Pro time-lapse video camera. The PlotWatcher Pro has the fastest time-lapse technology available. It can record images every second, and out in the field, watching game activity every second is vital to gain more knowledge. Put up a PlotWatcher Pro, or several, on your hunting land and let it...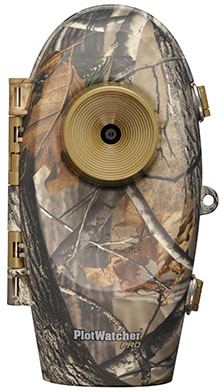 Day 6 Outdoors now offers interchangeable lenses for the PlotWatcher Pro time-lapse video camera - the only camera that gives you 1 million images on one set of batteries. The PlotWatcher Pro's features, such as time-lapse ability, Tru-Video technology, GameFinder software with MotionSearch and extra-long battery life, help you determine when and were to hunt, while the new interchangeable lens kit helps you determine which animals to hunt. Included in the kit, the 2.0X Super High-Definition Telephoto 37mm Lens will give you more "up close and personal" images than the standard...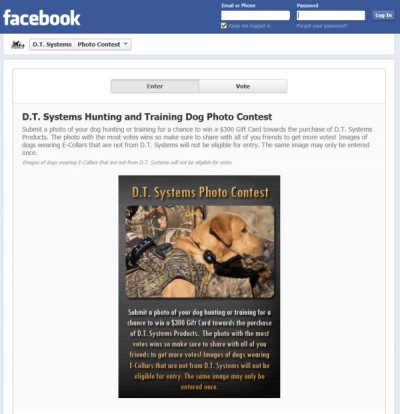 D.T. Systems is excited to announce a 
Facebook Photo Contest.
 Held on the 
D.T. Systems Facebook Page,
fans can upload images of their dogs hunting, training, or enjoying everyday life. The contest will run until December 13th for a chance to win a $300 D.T. Systems Gift Card. Those wanting to enter the contest will need to follow this link: 
Read more »
MINOX USA, Inc. has announced the hiring of G.B. Stumpp & Associates as its sales agency in the Northeast. This is a further step in MINOX USA's overall strategy to aggressively extend and enhance service through its established and rapidly growing dealer network. "With the addition of G.B. Stumpp & Associates, we have increased our sales force to include a highly experienced and well established agency to properly service our ever expanding network of dealers and distributors," said Matt Suuck, sport optics manager for MINOX USA. "We are excited to have added this highly...
This fall, the Alabama Division of Wildlife and Freshwater Fisheries (WFF) invites hunters to submit their photos to the Division's Facebook page. There are three photo categories: Youth, depicting kids under age 16 with their harvested doe or buck; Ladies, depicting women age 16 and older with their harvested doe or buck; and Big Bucks, depicting hunters of any age or gender with their harvested buck (no point minimum). In each category, the photo can be taken by anyone, but the person in the photo must be the person who harvested the deer. Deadline for entries is February 11, 2014....
The Vermont Fish and Wildlife Department is seeking submissions for the seventh annual Youth Hunting Memories Contest.  This year's contest has been updated to include a variety of entry types including a drawing, painting, photograph or video. Submissions should demonstrate why hunting is important to the young hunter and should demonstrate a memorable hunting experience.  Entries will be judged based on creativity as well as a strong display of hunter ethics, good landowner relations, an appreciation for wildlife, a respect for hunting heritage, a strong hunting skillset, and a...
As the fall 2013 big game hunting season opens, California hunters are urged to remember basic hunter safety practices, to know and comply with all laws and regulations and to carry all required licenses and tags in the field. Hunters are also reminded to pay close attention to weather conditions while in the field and to follow all applicable rules and regulations for using any public lands while hunting. Regulations and the Big Game Hunting Digest can be found on the California Department of Fish and Wildlife's (CDFW) website at Read more »
Moultrie Products, LLC has once again used customer feedback to guide innovation to create the Camera Battery Box. Designed to be a weatherproof power source for game cameras, the Camera Battery Box is perfect for any practical hunter. No longer will human interference ruin an otherwise perfect hunting setup. Now, with the Camera Battery Box, a hunter can check his cameras weekly if they desire, but won't really need to for months. Since entering the game camera market over 10 years ago, Moultrie has been driven to create the highest quality, most functional game camera equipment for...
September is a prime month for conducting camera surveys for white-tailed deer. Camera surveys are a proven technique that managers and hunters can use for estimating population density, adult sex ratio, and buck age structure. Camera surveys require "feed stations" to be set up throughout the property and normally use one camera station per 100 acres.  However, fewer cameras can be used depending on data needed.  Surveys are normally conducted over a 10 to 20-day period.  As described in 40 Miss Admin. Code, Part 2, Rule 2.4, a 21-day camera survey permit must be obtained from the...
Introducing the Tactacam HD video camera bow stabilizer. When you can't take a cameraman with you on your hunt, the Tactacam, available in Realtree AP and Realtree AP Snow, is the perfect solution. The easy-to-use Tactacam does not interfere with your hunt. Simply attached the Realtree...