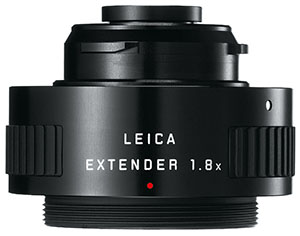 Whether in bright daylight or in challenging lighting conditions, the compact APO-Televid 65 mm and the exceptionally bright APO-Televid 82 mm spotting scopes never fail to impress. Unmatched optical clarity combined with the most robust construction and attractive designs. Offering amazingly wide field of view, razor-sharp image resolution, with maximum contrast and outstanding color fidelity. The patented Leica 25-50x WW ASPH. wide-angle zoom eyepiece is the perfect complement to these award-winning Leica APO-Televid spotting scopes, offering incredible clarity across wide fields and...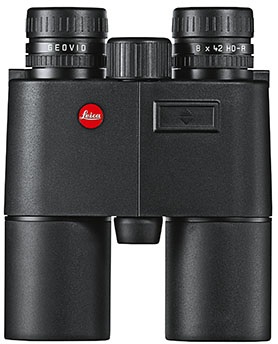 Hunt with the highest level of certainty no matter your terrain with the new Leica Geovid HD-R rangefinder binoculars.  The new Geovid HD-R boasts all of the great features of the Geovid HD, but with the added bonus of an innovative ballistics function, which delivers precise calculation of the ballistically-relevant distance (EHR = Equivalent Horizontal Range), particularly in the case of angle shots. This function provides you with a greater certainty of an ethically placed shot - both up and downhill. The algorithm developed by Leica takes not only the linear distance and the angle into...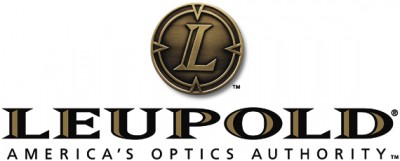 From March 1 to April 30, 2014, outdoors enthusiasts can receive a $25 rebate on Leupold BX-1 Rogue and BX-2 Acadia binoculars. The rebate form can be found at point of purchase or at
rewards.leupold.com
.  To receive the rebate, the completed form must be mailed to the specified address along with a valid receipt and the original UPC bar code cut from the product packaging. The binocular rebate forms must be postmarked no later than May 31, 2014. BX-1 Rogue binoculars feature fully multi-coated lenses to optimize light transmission and...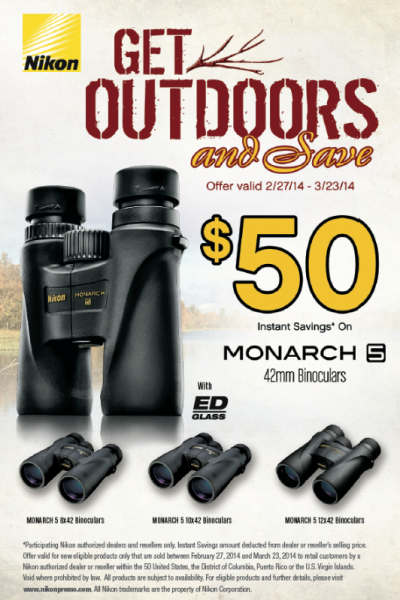 Nikon's newest "Get Outdoors" promotion gives consumers an excuse to do just that. From now until March 23, 2014, consumers will receive $50 instant savings on all eligible MONARCH 5 42mm binoculars. "Spring is coming, which is reason enough to get outside and enjoy the weather," said Nikon General Manager Jon Allen. "We wanted to give consumers a chance to save money on some of our most popular binoculars and help them enjoy the outdoor fun just a little bit more." All binoculars in the MONARCH 5 product line feature  Nikon's ED Glass, as well as dielectric...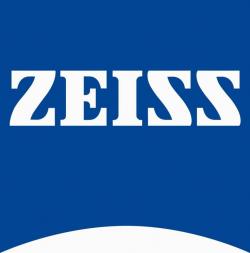 Carl Zeiss Sports Optics
, the world's leading manufacturer of premium sports optics, is kicking off their Spring Promotion by offering seasonal rebates of up to $125 when purchases are made between March 1, 2014, and May 4, 2014. Rebates are being offered on award-winning binoculars and riflescopes that have been recognized by some of North America's most respected hunting and birding publications. ZEISS' TERRA 3X riflescopes received the 2013 Editor's Choice Award from Petersen's Hunting for offering the highest quality, most innovative...

Company and Distributors Collect 3,500 Pounds During Fourth Quarter
Streamlight, Inc.
, a leading provider of high-performance flashlights, announced that the company and several of its U.S. distribution partners recycled nearly 3,500 pounds of rechargeable batteries during the fourth quarter of 2013, with a year-to-date total of over 10,000 pounds. Streamlight's corporate headquarters in Eagleville, PA, recycled just over 3,000 pounds of Nickel Cadmium, Lithium Ion, Nickel Metal Hydride, and small Sealed Lead Acid batteries during the...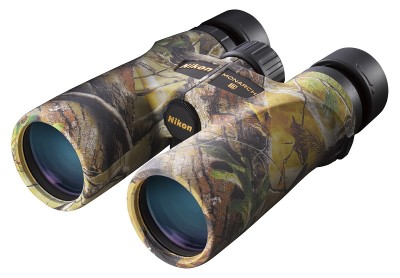 Nikon's popular 
MONARCH 3
 binoculars now come in 
Realtree APG
.  Praised by hunters for their reliability and effectiveness in all conditions, MONARCH 3 Realtree APG binoculars are available in 
8x42
 and 
Read more »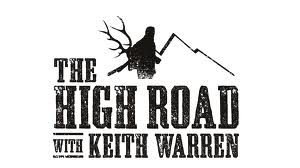 The High Road with Keith Warren welcomes Optics Planet as a new sponsor for the 2014 season, airing on the Pursuit Channel. Optics Planet is recognized as one of the world's leading online retailers of sport optics, tactical and military gear, scientific products, hunting gear and eyewear. "Optics Planet allows us to better serve the product needs of our viewers," says Keith Warren, award-winning host and producer of The High Road. "With global distribution and broadcast of our shows and videos, viewers from anywhere can order many of the products they see us use directly from Optics...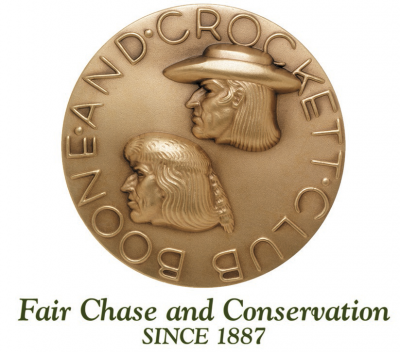 Optics icon Swarovski Optik has officially announced its participation in Trailblazers in Conservation, a Boone and Crockett Club initiative to help the hunting community rise to the challenges of a changing world. If sporting lifestyles--and the conservation successes long funded through hunting--are to thrive in the future, then today's sportsmen must find a way to balance climate change, increased energy development, unmitigated urban sprawl, wildlife disease outbreaks, conflicting policies and a host of other challenges. Swarovski Optik joins a growing list of Trailblazers in...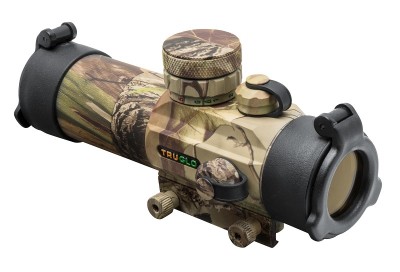 TRUGLO Inc., manufacturer of the world's most advanced line of sights and accessories for the shooting sports industry, announces the GOBBLE•STOPPER TRITON SERIES by TRUGLO. The Triton 30mm TRI-COLOR RED•DOT SIGHT with Weaver-style mount offers two reticle models, a 3 MOA (TG8230GB/GA) and a 5 MOA (TG8230B) which are specially designed for turkey hunting. Three reticle color choices of red, green or blue offer the best contrast against any target or background. This versatile red•dot sight is constructed of lightweight CNC-machined aluminum.   It is equipped with a 1x30mm...