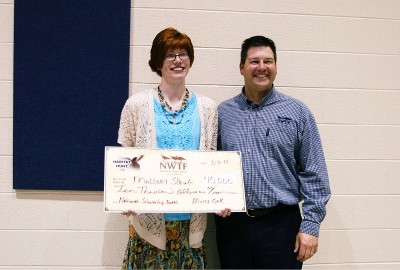 Mallory Spring of East Fultonham, Ohio, was recognized at her high school awards ceremony as the recipient of the National Wild Turkey Federation's (NWTF) 2014 National Scholarship sponsored by Mossy Oak, surprising both her and a crowd of her peers. The $10,000 scholarship will help Spring pursue a degree in wildlife biology and natural resource management. Just a few days before learning of her award, Spring enjoyed a successful NWTF youth turkey hunt in Ohio with Eddie Salter and James Earl Kennamer, Ph.D., NWTF chief conservation officer. Not a bad week for anyone, especially a...
This Nikon rangefinder will help you eliminate the guesswork and base your next shot off knowledge. With its aggressive styling and palm-sized ergonomics, the Nikon PROSTAFF 5 Laser Rangefinder, available in Realtree APG , is the ideal balance of size and power.  Boasting a 10% reduction in size from its predecessors, this Nikon rangefinder is the easy-to-carry compact tool needed for dependable readings.
The 6×21 multicoated optical system boasts a huge ocular lens and optimized viewfinder display to provide the wide field of view needed for immediate subject acquisition and maximum ranging speed.  With ranging precision out to 600 yards, the long eye relief of 18.3mm makes it great for use with or without eyeglasses. The incredible .1 yard display makes the PROSTAFF 5 stand out from the crowd.
A defining feature of this Nikon rangefinder is the ability to enhance the display when needed.  An easy-to-read LCD offers maximum contrast against the viewed image, while the switchable LED feature adds additional contrast as needed for ranging in virtually any light conditions.  The waterproof/fogproof construction makes it the perfect companion for virtually any hunt.
Outdoor Hub, The Outdoor Information Engine - New Nikon PROSTAFF 5 Laser Rangefinder
The Louisiana Wildlife and Fisheries Commission (LWFC) adopted a notice of intent at their March 1 meeting, to accept public comment on proposed feral hog trapping regulations recommended the Louisiana Department of Wildlife and Fisheries (LDWF).
The proposed regulations would allow feral hogs to be trapped year-round. Persons using cage or corral traps to capture feral hogs would be required to have a valid Louisiana basic hunting license. Persons using snares to trap feral hogs would be required to have a valid Louisiana trapping license.
Additionally, cage or corral traps would be required to have an opening in the top measuring at least 22 by 22 inches or 25 inches in diameter. The purpose of this opening is to allow escape of non-target animals such as the Louisiana Black Bear.
To view the full notice of intent, go to http://www.wlf.louisiana.gov/action-items . Interested persons may submit written comments relative to the proposed rule to Kenny Ribbeck, Wildlife Division, Box 98000, Baton Rouge, LA 70898-9000, or via email to kribbeck@wlf.la.gov prior to Thursday, May 3, 2012.
Outdoor Hub, The Outdoor Information Engine - Louisiana DWF Presents Proposed Feral Hog Trapping Regulations at March Commission Meeting