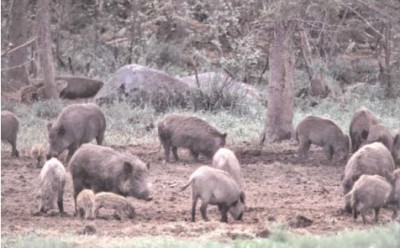 Like most states with a feral hog population, Georgia has relatively lax regulations on hunting invasive swine. Yet that does not mean that there are no restrictions at all---especially on public land. Currently, sportsmen are restricted to certain weapons depending on the season, prohibited from night hunting, and cannot shoot pigs from a vehicle. A new bill in the Georgia house would do away with these restrictions, vastly expanding the options available to Georgia hunters. "This [bill] would make the feral hogs not 'wildlife.' They're a nuisance is what they are," the bill's...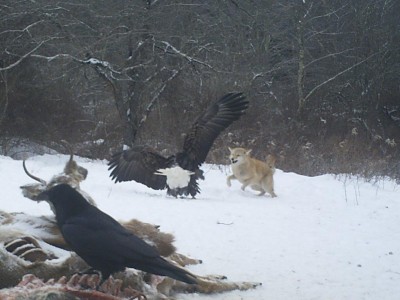 What is the most epic picture you've ever pulled from a trail cam? Did it involve four different species, a life or death battle, and perhaps the most stunningly clear case of opportunism caught in the wild? There's a lot going on in this picture, but we can all agree that the raven is the real winner here.
Blutausbeherit
, who claims that they recovered the image from a wooded...
Byron Ferguson is a world-famous exhibition archer and bowhunter. In the video below, Destin of SmarterEveryDay takes a scientific approach to how Ferguson does what he does. Whether it's shooting targets, big game, or something as small as a piece of lifesaver candy, Byron is always deadly accurate. How impressive is that in mathematical terms? Destin explains below.
Want to see another amazing archer in action? Check out our article on Danish speed archer Lars Andersen
...
They look like buffalo, act like buffalo, and certainly smell like buffalo, yet the hybrids known today as "beefalo" still have domestic cattle DNA in their genetic makeup. These large, lumbering creatures are left over from an ambitious project more than a century ago to raise buffalo for beef production, but now the creatures are causing headaches for wildlife officials. Beefalo, or bison mixed with cow DNA, have proven to be a serious setback for wild bison conservation. Perhaps even more pressing, the animals are now rampaging through Grand Canyon National Park, pushing out native...
After more than 20 years, the Florida Fish and Wildlife Conservation Commission (FWC) is bringing back bear hunting to the Sunshine State. The decision to plan a limited weeklong season was first announced early last month, and although it has yet to be finalized, officials now say that hunting could take place as early as this fall. It will be the first season in the state since officials banned bear hunting in 1994 due to population declines. Yet, a rash of bear attacks in 2014 and a general increase in black bear numbers has convinced the agency to take a "more aggressive...
On Friday, the Michigan Department of Natural Resources (DNR) announced that it filed an appeal in the December 2014 federal court ruling that returned the state's wolf population back to the endangered species list. That decision, which was made by US District Judge Beryl Howell, came in response to a lawsuit filed by the Humane Society of the United States against the states of Michigan, Minnesota, and Wisconsin. All three states had their wolf populations restored to either endangered or threatened status, which effectively blocks state wildlife agencies from pursuing their current...
Paleontologists are calling a recent find in the Russian region of Yakutia a "sensation." Last September, Aleksandr Banderov and his hunting party were traveling near the Semyulyakh River when they uncovered the preserved carcass of an adolescent wholly rhinoceros, a species that roamed the frozen landscapes of Europe and northern Asia during the last Ice Age. The hunters initially thought it was a reindeer frozen in the ice, but quickly realized it was something much older. "We were sailing past a ravine and noticed hair hanging on the top of it,' Alexander told
Read more »
In 2014, the states of Michigan, Iowa, and Wisconsin held an experimental teal duck season with authorization from the US Fish and Wildlife Service (USFWS). With the first-year report concluded, biologists from the three states confirmed that the 2014 season was a great success and may even lead to an early teal season in additional states. "The early teal season provided Wisconsin hunters with a new opportunity and our first year results give us confidence in promoting this opportunity for hunters' again next season." said Read more »
We are not entirely sure of the context of this video, but it appears to show hunters in Africa using a unique method of harvesting wild pigs. The hunters toss monkeys at a pack of wild pigs, which are eventually caught and "ridden" by the monkeys---whether this is done to slow the pigs down, confuse them, or otherwise drive them toward the hunters is unclear. The pigs are then captured by the hunters with nets. This certianly seems like a lot more work than using a rifle, bow, and a whole host of other tools, but as the old saying goes "if it ain't broke, don't fix...
// Post by Jack Somerville Photography. Photographer Jack Somerville originally journeyed to the African coastal nation of Namibia in search of wildlife found nowhere else in the world, but he left with pictures of local hunters instead. The 26-year-old photographer and wildlife conservationist captured extraordinary images of San tribesmen hunting with bows and arrows alongside the...