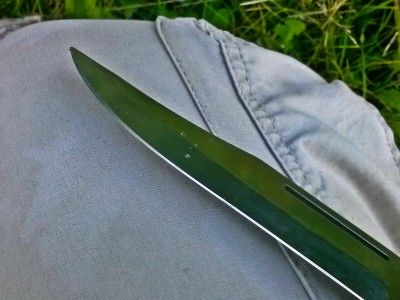 The odds are that if you own a knife, you have already perused the different knife sharpeners out on the market today and probably balked at their prices. $150 for a Japanese water stone, or double that for a belt sharpener? Surely there has to be a better---and most importantly---cheaper alternative. Whether you use your knives for hunting, fishing, or bushcraft, you don't exactly need an edge that can slice through atoms. All you need is something that will get the job done. So below are five inexpensive---practically free---methods of putting an edge on your knife without spending the big...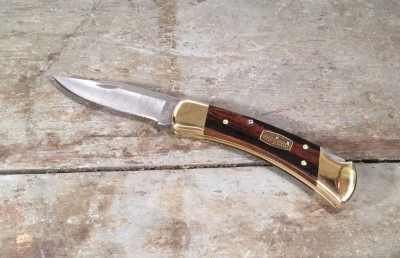 Like many Americans, my fear of tax season is offset in a small way by the promise of a refund. It's the added incentive that many of us need to file taxes early---or at least before the post office closes down on April 15. As I wait for the refund to deposit itself in my bank account, I find myself daydreaming about how I'm going to spend it. Of course, fiscally-responsible options are about at the bottom of my list, but I also don't get carried away. After all, the majority of us won't be able to afford a new yacht on their tax refund. So why not invest in an upgrade to the one outdoor...
Generally, the only time hunters ever want to see a bear up close is when they're actually hunting for one. Otherwise, running into a bear can be a tense situation, especially if you got several pounds of deer or elk meat on you. Brown bears are indisputably the most powerful land predators in North America, and a confrontation with one could ruin your day very quickly. Black bears may be smaller, but that does not make them any less dangerous if they get it in their minds that you're a threat. This goes double if there are cubs around. Here is our list for the top seven scariest...
On Thursday, US Senator Lisa Murkowski (R-Alaska) and Senator Martin Heinrich (D-New Mexico) introduced the Bipartisan Sportsmen's Act of 2015. Like previous versions, the act includes a number of provisions that will protect the rights of hunters and anglers and expand access in federal lands. "The number one issue for sportsmen and women across the country is access. This widely supported, bipartisan bill will open more areas to hunting and fishing and grow America's thriving outdoor recreation economy," said Heinrich in a
Read more »
Just seven years after wolves reappeared in Oregon, the state's wolf population has hit a major threshold. According to Oregon's Department of Fish and Wildlife (ODFW), the latest census has found that there are at least seven breeding pairs of wolves in the state, which each produce at minimum two pups that survive to the end of the year. In accordance with the state's wolf management plan, officials are now moving into the second phase of the recovery process, which could include removing the species from the state's endangered species list. "This is an important step for Oregon....
This week, President Barack Obama's administration announced that the Department of the Interior has released a new conservation plan for the Arctic National Wildlife Refuge (ANWR) that will designate more than 12 million acres as wilderness, including the oil-rich coastal plain. The announcement has set off a firestorm of debate, especially from some Alaskan lawmakers, who staunchly opposed the expansion of wilderness protections. President Obama, speaking during a state...
For good or ill, it seems that deer want to jump over just about everything. Adult deer can leap up to eight feet in the air---which means that somebody should probably teach them how to play basketball. However, when you combine a deer's poor depth perception with a properly constructed barrier, you often end up with a situation like the one seen in the video below. Thankfully for this doe, rescue came at just the right time. In more isolated areas, being trapped in a fence can mean a slow and excruciating death. Even if the deer is able to free itself, there is always a chance of...
On Sunday, officers from the Florida Fish and Wildlife Conservation Commission (FWC) euthanized the largest-documented black bear in the state's history. According to The News-Press, the massive 740-pound male bear was captured days before while roaming through populated neighborhoods in Seminole County. He was even sighted lingering around a local elementary school. Given that it weighed nearly 500 pounds more than the average male black bear in Florida, experts...
Finding a pair of antler-locked bucks is often a somber experience. Much of the time, tangled antlers can mean a death sentence for both deer, yet is not uncommon for one of the bucks to soldier on long after the other one perished. Suffering from hunger and exhaustion, the survivor will have to carry the weight of its defeated rival while escaping the attentions of opportunistic predators. There have been cases where bucks were found carrying little more than an extra set of racks after coyotes...
Oregon officials have confirmed that the state's famous wandering wolf, OR-7, is now the leader of his own pack. The male gray wolf stepped into the spotlight between 2009 and 2011 when he traveled thousands of miles from northeast Oregon into California, becoming the first wolf to be seen in the Golden State since 1924. Recently, the wolf came back to Oregon with a mate in tow, and biologists reported seeing wolf pups last June. The pups were the first wolves to be born in Oregon's...