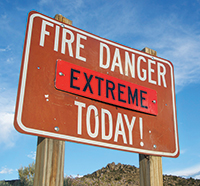 The cost of fighting wildfires will increase by nearly $500 million this year, according to new federal study, bringing the annual total to $1.8 billion—a staggering amount that does not include other tolls on property, wildlife, habitat and humans. With that in mind, the National Shooting Sports Foundation encourages target shooters and hunters to do their part to help prevent wildfires, and offers a poster and audio public service announcement containing prevention guidelines for use throughout this fire season.
The poster encourages firearms owners to know the rules,
...
Deer hunting seasons in South Dakota are in full swing during November and the Game, Fish and Parks Department is reminding hunters that fire danger still exists.
Fire danger has been extremely high throughout the summer, and despite some recent moisture and cold temperatures remains so throughout much of the state. With that in mind, hunters are being asked to take precautions to help prevent range fires.
GFP asks hunters to take these basic precautions:
Equip their vehicles with a large fire extinguisher, shovel and water they'll need to fight a fire.
Extinguish cigarettes with water or dirt or use an ashtray inside their vehicle.
Limit vehicle traffic to designated roads and trails.
Never park a vehicle over dry grass.
In addition, hunters can provide an extra safety measure by carrying a cell phone and being alert for possible fires. If smoke or fire is seen, hunters should report the fire location to local law enforcement or call 911 immediately.
Read and join the discussion on Fire Precautions Needed during South Dakota Deer Season at OutdoorHub.com.
Fire danger is not typically a concern during deer season, but this year could be an exception in the southwestern part of the state.
Jeb Williams, North Dakota Game and Fish Department assistant wildlife chief, said even though much of the state has received much-needed moisture the past few weeks, some areas are still dry. "With temperatures forecasted to be in the 40s on the Nov. 9 deer opener, we encourage hunters to use common sense and to exercise caution to prevent fires," Williams said.
Typically fire is not a big concern in November, but the threat exists as long as there is no snow cover. Hunters should carry a cell phone in the vehicle, along with shovels, fire extinguishers, extra water and heavy fabric for putting out accidental fires. However, individuals who are not trained firefighters should not attempt to fight a fire that is out of control. Instead, contact the nearest fire department immediately.
Information on the daily fire danger index is available on the Game and Fish website, gf.nd.gov. Local jurisdictions may also institute burn bans that are more restrictive than the fire danger index. Contact the local emergency manager to inquire about the status of fire restrictions that may be in place.
Read and join the discussion on Fire Danger Still a Threat in Southwest North Dakota at OutdoorHub.com.
South Dakota hunters should be mindful that fire danger persists across the state, and safety measures need to be taken to help prevent wildfires this opening weekend of the pheasant season.
"We have had a particularly dry year in our state, and hunters will find high fire danger conditions just about anywhere they go," said Emmett Keyser, assistant director for the Game, Fish and Parks Wildlife Division.
Keyser said there are several steps hunters should take to help prevent wild fires.
"Park your vehicle in a safe spot that is clear of any vegetation and then walk," Keyser said. "Cover can be tall and tinder-dry, capable of igniting from the heat of the undercarriage of a vehicle. Park your vehicle in a safe spot, and exercise extreme caution wherever you might drive."
Besides normal hunting equipment, hunters should include some basic fire prevention equipment: an extra container of water, fire extinguisher, and fire suppression equipment, such as a shovel or flappers.
Hunters should also report fires.
"Some of our best fire detection comes from all our hunters in the field," Keyser said. "With all those eyes on the horizon, it is very likely a potential fire can be detected and dealt with before it can progress. Hunters should have their cell phones handy and immediately contact local emergency services or 9-1-1 to report a fire."
Keyser noted that South Dakota has a very good record of fire safety during hunting seasons.
"The key to fire safety is awareness," he said. "Hunters need to use common sense and be aware of the potential for wildfires no matter what the conditions. A responsible person's actions can make a huge difference in protecting both property and wildlife resources."
Read and join the discussion on South Dakota Hunters Cautioned on Fire Danger at OutdoorHub.com.