Have you ever wanted to go spear hunting but wanted greater range? Are you an experienced bowhunter who wants to try something new---or rather, something very old? Then perhaps you should consider the atlatl. The atlatl is one of the oldest weapons still used in modern hunting today, in many places predating even the most primitive of bows. Essentially a long dart or spear balanced on a thrower, the atlatl can be hurled with great efficiency and stopping power, making it the primary tool of early hunters in many different cultures. Earlier this month world-champion atlatl thrower Dawn...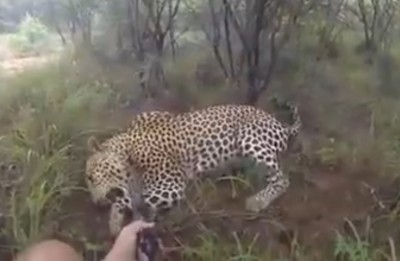 Of all the predators that a hunter could come across in the forest, wild cats can be among the most deadly. Equipped with razor sharp claws and a powerful bite, these stealthy predators can shadow humans for long distances without ever being noticed. Sometimes however, they might decide that hunters do make good prey after all. We don't know if the below men were hunting for leopard or something else, but one of the large cats definitely found them. Hunting wild cats, whether it be mountain lions and jaguars in the new world or leopards in the open savannas of Africa, can be...
The big five safari is an iconic outdoor adventure that's been enjoyed by the likes of former President Teddy Roosevelt and other legendary hunters. However, is such a hunt possible today? What would it be like? What would it cost?
At this week's Safari Club International Convention in Las Vegas
I tracked down
Keith Atcheson
, who grew up in his father's big game booking business and has been advising hunters for 40 years. He was kind enough to explain where a hunter could pursue each of the big five animals...
If you have a dream hunt, you can start planning it now at the
SCI Convention
being held here in Las Vegas February 4 through 7. The options range from modestly priced adventures to the extreme, like a half-a-million-dollar Big Five safari. Every hunter has those "some day" fantasy trips on his or her bucket list, and here are seven that can be life-changing events. 1. Wyoming mule deer A trophy mule deer may be the most difficult trophy to bag no matter how much money you spend. Fortunately, if you are willing to condition yourself for the...
One popular subject of debate among hunters is which cartridge is best for a specific game species. Usually a hunter's choice is dependent upon personal preference and whether or not a round can humanely kill an animal. However, there are some cartridges so intimidatingly large that the guns they are used in are simply referred to as "stopping rifles." These firearms shoot projectiles designed to stop a wild animal in its charge with a single bullet. If there were such a thing as
huge
game calibers, the seven cartridges listed below would qualify. 1. .577 Snider This British black...
One of the biggest decisions to make when you are shopping for a new bow is what draw weight the bow should have. Most people, myself included, overdo it for what they are actually hunting. Is this a bad thing? Not really. But when talking to new and old archers alike, I have had way too many conversations where they think they need the heaviest bow on the market because that's what their buddy or some "pro" on TV has---and that's simply not true. There are some facts that can't be ignored, however. Draw weight is an important factor when it comes to speed and kinetic energy. If...
In April of 1999, I experienced one particularly exciting drama up in the Arctic, with which any 18th century whaling man from New England could readily have identified. Heart-pounding adrenaline rushes were common for North America's early whalers, and at one point during my second try for the Great White Bear of the North I suddenly found myself thinking back to those distant times and adventures, and marveling at the similarity to what I was going through. Before I finish drawing out the parallel, however, there is much of this story that needs to be told first. Solomon...
In the Preface to
BAREBOW!
, I mentioned that in early 1998 a friend suggested to me I ought to set my sights on pursuing and completing the North American Super Slam. Once the idea was implanted in my brain, it rather quickly became a major goal in my life, and I wasted no time checking into the possibilities of booking a hunt for polar bear. I knew from my reading that the more radical environmental and animal rights groups were crusading to get all hunting for this species shut down, so while at the 1998 SCI Convention I dropped by the booth of Adventure Northwest and had a talk...
Last week, the US Fish and Wildlife Service (USFWS) proposed listing the African lion as "threatened" under the Endangered Species Act. In contrast with some groups that claim hunting has harmed lion populations, USFWS stated that the primary factors in the lion's decline are loss of habitat, loss of prey base by poachers, and retaliatory killings by livestock owners. Instead of having a negative impact on the species as a whole, sport hunting has helped to manage the population, remove overly aggressive males, and provide funds for conservation and education. "By providing incentives...
Greetings from South Africa! For the past few days my "to do" list has read, "Go to Africa. Hunt. Make memories," and I've been doing just that. I'm leading a group of five female hunters in the Eastern Cape with 
Starr & Bodill African Safaris
, of which I am a co-owner along with my father Dwaine Starr and professional hunter Louis Bodill. Unfortunately, our time here has come to an end. Here are highlights from the last three days of our hunt. Michelle's Burchell's zebra If it seems as if Michelle and I both spent...