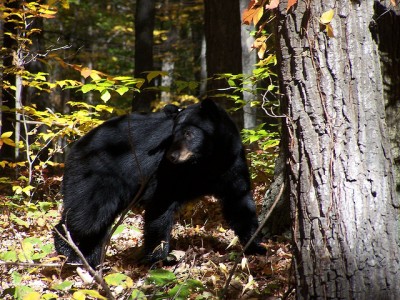 Camille Bomboy's family hunting trip took a turn for the worse when she ran afoul of a black bear sow and her cubs. The 18-year-old was hunting for deer near her family farm in Mill Hall, Pennsylvania on Monday with her stepfather and stepbrother when three bear cubs ran past her. Wherever cubs are present, their mother is usually not far away. Bomboy's stepbrother Kyle Courter initially thought that the adult bear had ignored her, but quickly found this was not the case. "Next thing I know, I hear my sister scream. I figure, the bear ran by her and scared her," Courter told
Read more »
The Interagency Grizzly Bear Committee (IGBC) and the Wildlife Management Institute (WMI) teamed up with renowned hunting journalist Craig Boddington to produce a 1-minute demonstration video and 30-second public service announcement (PSA) to promote the use of bear spray by hunters.  The demonstration video is posted on the IGBC website and on outdoor-oriented Facebook pages and websites that have hundreds of thousands of fans. The PSA...
Bobcats are generally not thought of as dangerous predators, especially in areas where the larger, far more deadly mountain lion lurks. However, these pint-sized predators can still be a serious concern to hunters in the field. Two quail hunters traveling near Prescott Valley, Arizona last Thursday were attacked by a bobcat. The unnamed hunters saw the adult bobcat scamper underneath their vehicle and were met with claws and teeth when they investigated. According to the Prescott Valley...
With bear encounters becoming more prevalent in the United States, consumers want and need to become more familiar with reading bear attack deterrent labels. What is the active ingredient that makes one spray more effective than another?  There are four bear attack spray formulations sold in the US and dozens of products. Common terms used when comparing bear attack deterrents: Capsaicin and Related Capsaicinoids (CRC): Pharmacologically active and pain-producing components of the hot pepper. Oleoresin Capsicum (OC): Derived from the chili pepper, the oil extracted is the active...
Waterfowl hunters using boats to reach their hunting location are reminded that they have new laws to follow that are designed to protect Iowa lakes, rivers, and wetlands from the spread of aquatic invasive species. "Hunters are legally required to drain all water and remove plants and aquatic invasive species from boats and equipment before leaving a water access," said Kim Bogenschutz, Iowa DNR Aquatic Invasive Species Program Coordinator. "Drain plugs need to remain removed or opened during transport." Duck hunting season opens in the north zone on Oct. 12, in the south zone...
In an unorthodox move, bowhunter Don Nash flipped the tables on an Alaska black bear by charging it when the animal came too close. According to the Chilkat Valley News, the 61-year-old man from Haines was hunting moose on September 20 when he was approached by the black bear. At the time Nash was 200 yards away from his camp on the Kersall landing, his feet still wet after crossing a small river. "As soon as I saw it, I thought 'small bear,'" Nash...
Hunting often brings surprises, but few are as close as the one this bowhunter experienced on his treestand in northern California. What had been a quiet morning took a tense turn when a black bear sow and her two cubs strolled into view. One of the cubs decided to climb the tree and inspect the hunter's gear. Like all overprotective parents, mama bear didn't like that. http://youtu.be/WP2lMWuLQQo Treestand encounters with inquisitive bears are becoming increasingly more common. Earlier this year, Mississippi resident Hunter Coleman dealt with a small male and large female black bear...
Four Australian hunters recently had a terrifying confrontation with a crocodile that resulted in the death of a hunting dog, and managed to catch part of the incident on video. While pursuing a boar near the Darwin River in Australia's Northern Territory, the hunters and...

Read More »
Alabama turkey hunter Chad Cross faced a terrifying situation last Sunday when a trek through the woods brought him facing a six-foot timber rattlesnake, one of the most dangerous and venomous snakes in North America. While experts attribute relatively mild behavior to the timber rattlesnake, it more than makes up for this with its large size, deep-biting fangs and lethal venom. The species is common throughout the eastern half of the United States and it is heavily advisable to give the animal a wide berth when discovered. Unfortunately, the snake can be easy to overlook except when it rattles.
According to WSFA, the snake struck Cross in the lower leg and bit straight through his hunting boot. The hunter described the pain as being comparable to being hit with a baseball bat.
"I was so nervous and scared. I knew I had to calm down and get my heart rate down because the faster my heart was pumping, the faster my heart was pumping I knew the faster that venom was going through my system," Cross said.
Wildlife officials urge those bitten by a rattlesnake to seek medical attention at least within one hour of the bite. Far away from transport, Cross had to act quickly. He pulled out his emergency bite and sting kit, a $10 purchase at a local outdoor store.
"I had to read the directions first because I never opened it up. I've carried it with me in my turkey hunting equipment for years. The process takes a total of 15 minutes and then it says to get somewhere with anti-venom," Cross said. Inside the kit  was a device resembling a syringe-shaped suction tube, which is meant to isolate the venom if used quickly. Cross placed it over the bite and pushed down on the device, trapping a portion of skin and the venom inside.
It saved his life. At a nearby hospital a doctor told Cross that a full dose of venom could have killed him before he even reached his truck, much less drive to the facility and receive treatment. The hunter stayed in the hospital for two days and was treated for the bite. No permanent damage seems to have been received and Cross is already back on his feet. He looks forward to the rest of turkey season and hopes to bag a few birds before it ends. Cross also advises hunters to buy a bite kit, which in hindsight he felt was a very valuable purchase.
Visit here for more information on how to treat a timber rattlesnake bite.
Read and join the discussion on Hunter Uses $10 Kit to Save His Life after Rattlesnake Bite at OutdoorHub.com.
A man traveling near Kalispell, Montana came upon an unwelcome sight when he discovered a deer carcass while turkey hunting last Saturday. According to the Montana Fish, Wildlife and Parks, an adult female grizzly and two yearlings were in the area feeding on the deer. They had moved some distance away when the hunter approached, but reportedly the adult bear charged the hunter at close range. The man then discharged his shotgun towards the grizzly from about 10 yards away. Wildlife officials believe that the bear was not hit. A search of the area yielded no traces of blood but tracks were later found. A helicopter sweep of the location could not find the grizzlies.
"The bear was charging him at about 10 yards," John Fraley of the FWP told KRTV. "We don't know if it was a false charge or a true charge, and (he) fired his shotgun in the bear's direction. From everything that we could find out, the bear was not hit. Actually we got a call from another hunter in that area, that the next day, saw tracks that fit the description of these bears, a large adult and two younger bears."
In either event, the bear and its cubs fled the area afterwards. FWP officials stationed cameras next to the deer carcass to monitor bear activity, which caught a 400-500-pound male bear on video.
Read and join the discussion on Montana Turkey Hunter Charged by Grizzly at 10 Yards at OutdoorHub.com.