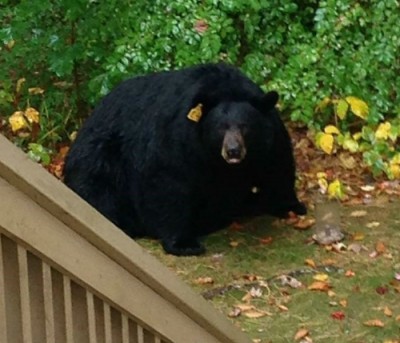 How much chocolate is too much chocolate? For a group of four black bears, a 90-pound mountain of chocolate and chocolate donuts proved to be lethal. According to the
Concord Monitor
, the New Hampshire Game and Fish Department is considering new regulations for bear baiting after conservation officers found two adult female bears and two cubs dead near a bait site in the northern part of the state. "The case in New Hampshire perhaps...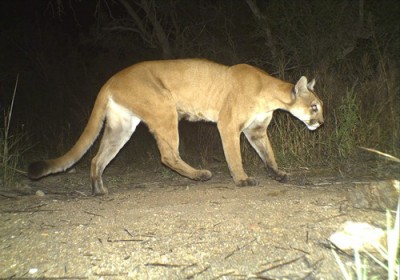 The Nebraska Game and Parks Commission announced last week that there will be no mountain lion season for 2015, and will instead pursue a new three-year study on the state's big cats. Commission director Jim Douglass told
The Lincoln Journal Star
that more study on the state's cougar population will help officials make decisions on how to manage the species. "It doesn't mean that we will not have a season during the three-year period....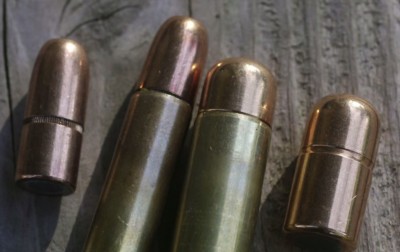 One popular subject of debate among hunters is which cartridge is best for a specific game species. Usually a hunter's choice is dependent upon personal preference and whether or not a round can humanely kill an animal. However, there are some cartridges so intimidatingly large that the guns they are used in are simply referred to as "stopping rifles." These firearms shoot projectiles designed to stop a wild animal in its charge with a single bullet. If there were such a thing as
huge
game calibers, the seven cartridges listed below would qualify. 1. .577 Snider This British black...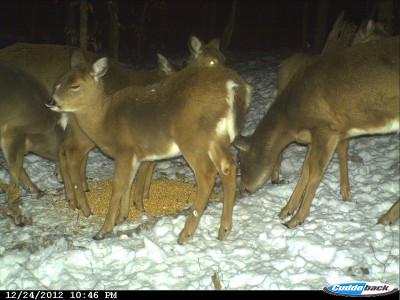 Providing supplemental feed to deer in the winter is controversial and illegal in some states, but other states encourage and even help fund it. Here's a look at some of the pros and cons of winter feeding.
The Minnesota Department of Natural Resources has often been opposed to recreational deer feeding. With the increased risk of chronic wasting disease (CWD) and other disease transmissions, there have been discussions about banning it. The winter of 2014 was very difficult for the deer of northern Minnesota. Deep snow and cold temperatures created conditions in which predators...
Depending on where you hunt, black bears can range from being a nuisance to a serious danger. Dover, New Jersey police officer Walter Michalski never expected that he would end up
stepping
on one. The off-duty policeman was hunting for deer in Allamuch State Park on Tuesday when he stepped over a log and right onto a black bear sow with four cubs. "It was not a bear attack," Department of Environmental Protection spokesperson Larry Ragonese told the
Daily Record
. "It...
Despite threats, criticism, and pressure from animal advocacy groups, one predator hunting "derby" in Montana will still he held. Yet according to
The Missoulian
, the location of the hunt, and even the location of the registration site, is still being kept secret. The story began last year when the Lakeside Resort and Motel in Trout Creek announced that it would be holding the first annual Great Montana Coyote and Wolf Hunt in...
A single Idaho bighorn sheep tag sold for $100,000 at this year's Wild Sheep Foundation Sheep Show in Reno, Nevada, making it the fifth-most expensive tag sold in the program's history since it started in 1988. Recognized as one of the largest expos for mountain hunting and conservation, the Sheep Show draws thousands of hunters and conservationists to Reno. One of the most anticipated sections of the show is the special permit auction, where bidders can raise millions of dollars for conservation efforts. "Since 1988, the auction tag has generated more than $1.85 million for bighorn sheep...
Officials from the Royal Canadian Air Force (RCAF) are praising eight hunters in Nunavut for their preparedness and good sense in their own rescue on Sunday. According to the
RCAF
, the hunters spent two days on the large ice floe after it separated from shore on Friday and quickly drifted nearly 17 miles south of Coral Harbor, where the hunters were eventually airlifted to after being rescued by helicopter. "The fact that these gentleman were prepared to be out...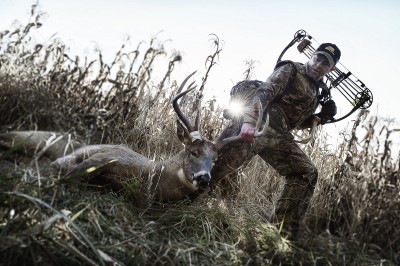 Acquiring a deer tag to hunt in a state far from home can be a confusing process, but this explanation of terms and definitions will help you navigate to the deer license you have always been wanting.
Applying for a nonresident tag in a state far from home can leave you with an overwhelming feeling. Game laws regarding tags are complicated and at times very confusing. It seems like every state is different, and laws within a state can differ from one species to another. With that in mind, my "Glossary of Tag Terms" that follows should help you navigate the clutter by...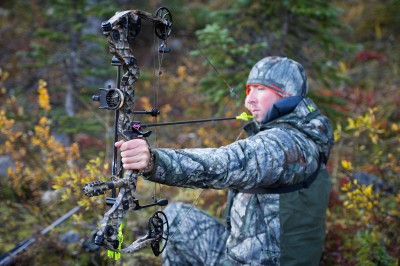 One of the biggest decisions to make when you are shopping for a new bow is what draw weight the bow should have. Most people, myself included, overdo it for what they are actually hunting. Is this a bad thing? Not really. But when talking to new and old archers alike, I have had way too many conversations where they think they need the heaviest bow on the market because that's what their buddy or some "pro" on TV has---and that's simply not true. There are some facts that can't be ignored, however. Draw weight is an important factor when it comes to speed and kinetic energy. If...