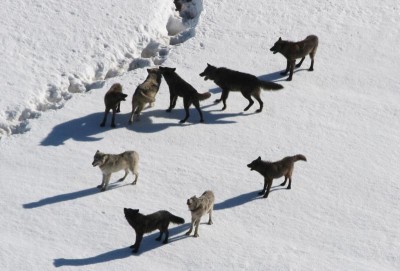 On Friday, the Michigan Department of Natural Resources (DNR) announced that it filed an appeal in the December 2014 federal court ruling that returned the state's wolf population back to the endangered species list. That decision, which was made by US District Judge Beryl Howell, came in response to a lawsuit filed by the Humane Society of the United States against the states of Michigan, Minnesota, and Wisconsin. All three states had their wolf populations restored to either endangered or threatened status, which effectively blocks state wildlife agencies from pursuing their current...
Over the weekend, Boone and Crockett measurers set to work on scoring Stan Kreidermacher's massive 28-point buck, which he harvested late last year on the final day of Minnesota's muzzleloader season. To little surprise, the rack ended up measuring an impressive 248 and 5/8 inches, displacing the current state record for a non-typical muzzleloader buck. "When I shot this deer I had no idea what it was," the 60-year-old hunter told
Read more »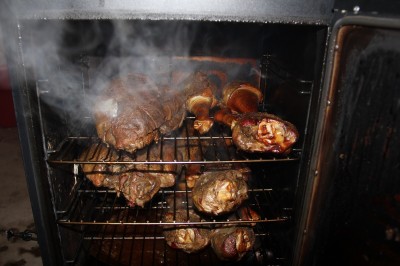 This past fall, my wife shot her first deer in 32 years. Before you read the rest of this article, you may want to watch the video here. As you can see, she hadn't hunted for 32 years, but she shot a deer in the first half hour of hunting this fall. Toward the end of the video you can hear me say something to the effect that it will be a good eating deer---and she says she knows what that means! A trophy is in the eye of the beholder, and this deer was a trophy for the two of us. It left me with some decisions to make. We eat a lot of wild game...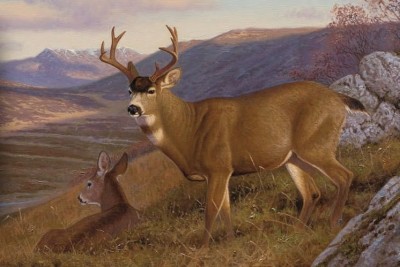 This is a story about three Sitka blacktail bucks. All of them had close encounters with me in the second half of November 2005, and two lived to tell about it afterwards. For storytelling purposes, I have hung a nickname on each one, which pretty well encapsulates the essence of the encounter. Their true names have been discarded in order to protect the innocent. On November 14, 2005, I flew to Anchorage, Alaska, and after overnighting there I was flown by Andrews Air Service down to the south end of Kodiak Island to begin my first serious Sitka blacktail hunt. Outfitter Scott Mileur...
Congressional lawmakers from Minnesota, Michigan, Wisconsin, and Wyoming introduced two bills last week that would preserve the ability of state agencies to manage wolf populations. The bills are a direct response to a federal court ruling in December that returned wolves in the Great Lakes states to the endangered species list, once again placing them under federal protections. That decision was hotly contested by a number of conservation groups, state wildlife agencies, and farmers, who say that the population of gray wolves in the region has only increased since they were delisted by...
A party of pig hunters found themselves in the right place and right time after they rescued a stranded pilot on North Island in South Carolina's Georgetown County. According to WWMB, the pilot found himself on the densely forested island after he was forced to make an emergency landing in the water on Thursday. Luckily for for him, a group of pig hunters traveling from the island saw the plane's descent and was able to change course to assist. ''He was excited about seeing us, I'll tell you," one of the...
Generally, the only time hunters ever want to see a bear up close is when they're actually hunting for one. Otherwise, running into a bear can be a tense situation, especially if you got several pounds of deer or elk meat on you. Brown bears are indisputably the most powerful land predators in North America, and a confrontation with one could ruin your day very quickly. Black bears may be smaller, but that does not make them any less dangerous if they get it in their minds that you're a threat. This goes double if there are cubs around. Here is our list for the top seven scariest...
Sometimes the biggest buck in the woods doesn't fall to the person who has the most experience or puts in the most time. Sometimes fate just smiles on people in random places---as was the case for two giant bucks harvested by young hunters this past year. Reid Rummelhart There is no justice in deer hunting. Some guys hunt their whole lives without ever seeing a true giant whitetail. Then a 210-inch buck walks out in front of an 11-year-old. If that makes you angry or jealous, then you might want to find a sport in which there's a semblance of justice. But if you are thrilled for the young...
We should probably cringe whenever someone invokes the dead to make a point, whether to rhetorically ask what they'd say about a current issue or to claim the issue is making the deceased spin, roll, or otherwise agitate in their grave. Who are we to speak for them? The longer a person's life and greater their intelligence, the less rigid and predictable their views often become in real life. It's probably safe to assume, however, that Aldo Leopold would be proud to know he helped inspire a free University of Wisconsin-Madison online...
Whitetail deer are the most populous big game animal in the United States, so why should a hunter travel to Canada to hunt them? The photo above helps make the case, but I tapped two outfitters to help explain the advantages of a Canadian whitetail safari. Alberta "Most stateside hunters have never hunted deer where there are caribou, elk, mule deer, grizzly bear, black bear, and wolves, lots of wolves," said Ron Nemecheck of North River Outfitting. "Feel free to take a couple of those home with you," he added with a laugh. "I hunt North...