Lars Andersen's newest video (embedded below) showed him jumping while shooting a bow, splitting an arrow on a knife, defensively shooting an incoming arrow, and catching an arrow then returning it in mid-air. http://youtu.be/BEG-ly9tQGk Now with over 25 million views and counting, it has been incredibly exciting to watch worldwide interest in Andersen's archery grow. "It is fun when a small hobby explodes in media around the world and many [people] want to reach me," said Lars. "But it's also a little scary how fast things go." Andersen is a painter by profession, and...
Logan "Bowshootin'" Miller is only six years old, but he already knows his way around a bow like a professional. While he may just be at the very start of his "career," Logan's family said he has been around bow shooting and bowhunting since he was three years old. His young age only makes the number of tricks Logan pulls off all the more impressive---and may be a testament to his unending quest for perfection. //
Post
by
Read more »
The use of quivers, sights, and a secure stance make up the foundation of modern archery. They're nonsense, says Lars Andersen, the world's fastest archer, and he's back with a new video highlighting incredibly cool tricks to make people rethink how they perceive the bow and arrow. Don't try them at home, Lars filmed them in a controlled setting with professionals. http://youtu.be/BEG-ly9tQGk Viewed almost four million times, Lars' first video from over two years ago became a...
Last week we posted a video of arrows perforating whipped cream canisters, fruit, snowglobes, and more in glorious slow-motion video. This week, the women of Archery 360 took on targets of their own. The archers shoot a variety of household objects, including eggs, a light bulb, and the ever-popular two-liter of pop. // Post by Archery 360. ...
There are some who say that everything looks cooler in slow motion, and this video by Archery 360 seems to add merit to that notion. Whether it is a can of whipped cream, some unsuspecting fruit, or even a snow globe, this montage of slow-motion shots will have you mesmerized. // Post by Archery 360. ...
Eight antique and rare bows were stolen from a museum in New Westminster, British Columbia last week. According to Global News, the bows were on display at Boorman Archery shop and museum before last Friday, when thieves smashed through a window and escaped with the valuable items. It is likely that the thieves were familiar with the prices of the bows, estimated at over $20,000, since they targeted them specifically. The museum's owner, Ron Boorman, said that the stolen bows were...
Full Flight Technology, maker of the Velocitip electronic arrowpoint, has plans to build a mobile app for iPhones that will make sighting-in a new bow much easier and faster. The company recently launched a Kickstarter campaign to raise $25,000 for the project, which Full Flight Technology CEO Bob Donahoe calls the "UNO." The idea behind the app is simple: shoot the bow at a set distance, plug the bow's specs into the app, and set sight pins to match the positions the app shows. "Today, sighting-in a bow...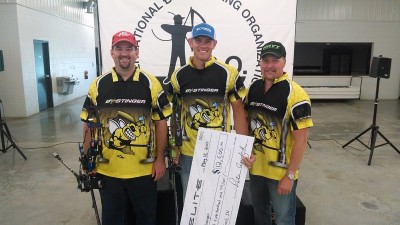 Gold Tip shooter, Levi Morgan, came out swinging for the fence on Day 1 of first leg in the race for the IBO Triple Crown and never looked back. On the long, difficult course that gave many of the world's best archers absolute fits, Morgan ended the tournament, held in Bedford, Indiana, with a final score of 417; he was +21 on the weekend. Fellow Gold Tip shooter and 2013 IBO Shooter of the Year, Joseph Goza, who's been hot all season, locked onto second position, coming in 5 points behind Morgan, with a 412; Goza was +18 on the weekend.  Morgan was shooting Gold Tip's Series 22...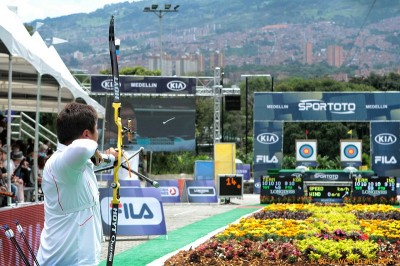 Team Easton shooters continue to set the standard for performance after another complete Gold Medal sweep on the 2014 Archery World Cup circuit. The just-completed event in Medellin, Columbia shows the continuing domination of X10 arrows in both compound and recurve competition.  Korean earned the lion's share of the recurve medals, taking five of the six individual titles using Easton X10. Easton Chairman, Greg Easton, states, "It was incredible to see the boost that the World Cup has brought to the highest levels...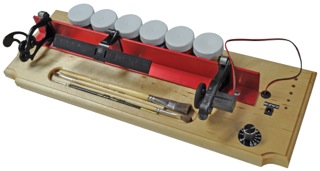 Advancements in dipping & cresting brought to you by Bohning Archery! New for 2014 are the Bohning Professional Cresting Kit & the Dip Kit. In the past Bohning has brought you cresters, but none on the market come close to competing with the new Professional Crester. Many improvements have been made to ensure this new crester is the top of the line custom archery tool to decorate your arrows the traditional way. It offers variable speed, 220-440 RPM range on 5/16" shafts, for the perfect rotational speed every time. Features also include: flip-down reversible pattern rest (English...